Akhal-teke stallion Bartang (Tyllagush - Bagira) - Akhal-Teke For Sale
| | | |
| --- | --- | --- |
| | | Akhal-teke stallion Bartang (Tyllagush - Bagira) - Akhal-Teke For Sale |
Located at Shah-Teke Stud Farm in Russian, Bartang is a true type Akhal Teke horse and a popular breeding stallion. Bartang is sired by the buckskin stallion Tyllagush 2nd out of the mare Bagira (Gulpasyl) who is a daughter of Karader. Shah-Teke Stud always have a selection of pure bred Akhal-Teke horses for sale and regulary export horses sold all around the world, below you can watch a video of the Akhal-teke stallion Bartang in action.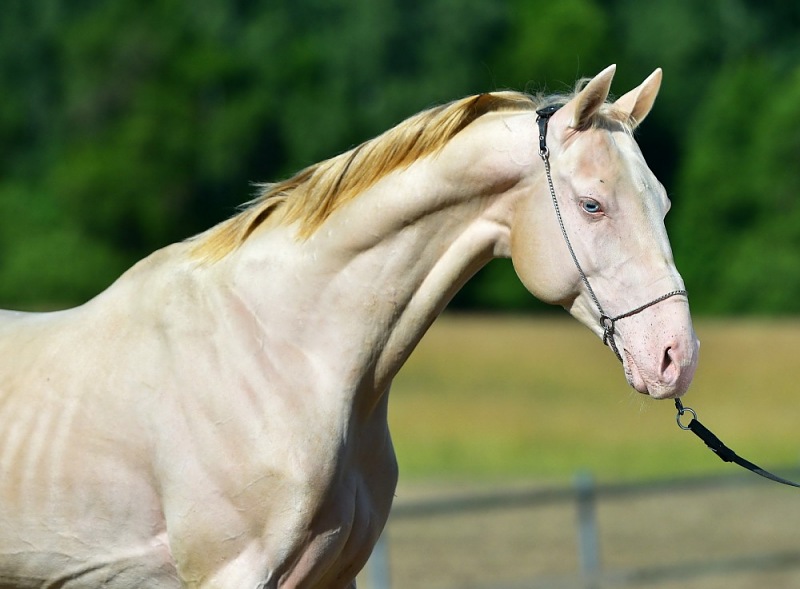 The Akhal-Teke Horse Breed
The Akhal-Teke is a true desert-bred horse with a light, elegant build and a distinctive Pieterconformation, including a long, tapering face with long ears and wide nostrils, with large, hooded, slanting oriental eyes. The neck is long and thin, set high on the prominent wither, leading to an excellent sloping shoulder. The body is long, lean and narrow, with long legs and dry, dense bone structure. Their hooves are small and extremely strong, with little or no feathering, and a sparse mane and tail, often with no forelock. The skin is very thin with a fine, silky hair coat, and a hair shaft that reflects light, producing a metallic golden sheen to the coat. This characteristic is genetically distinct to this breed alone and appears in different shades in their coat colors of black, bay, chestnut, dun, palomino, gray, and the striking cremello and perlino. Their action is magnificent- free flowing, gliding and elastic; their temperament alert, bold and remarkably intelligent, responding best to sensitive training.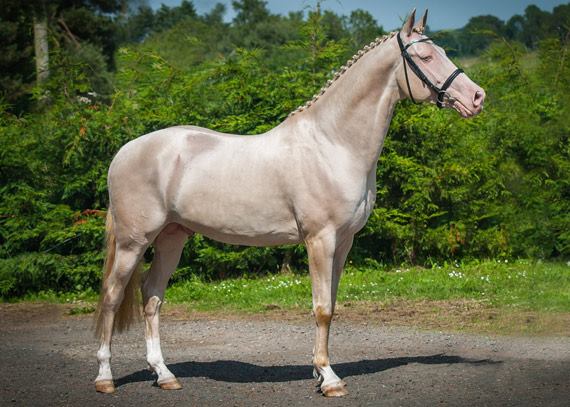 The Akhal-Teke is also a sport horse of great distinction, his role having changed in modern times. Used for centuries for distance racing in their homeland, they have proved to be more than competitive in the FEI disciplines and other equine sports. ABSENT, an Akhal-TekeLembit 2004 stallion, won the Gold medal in Individual Dressage at the 1960 Rome Olympic Games, and by the end of his career had won 5 medals in 3 Games under three different riders. In the U.S., an Akhal-Teke stallion was long-listed for the 1996 Atlanta Games in three-day eventing. Today, Akhal-Tekes are utilized in a myriad of sports, including dressage, show jumping, combined training, and, increasingly, endurance riding, where their legendary stamina truly shines. In 1935, the purity of the breed was threatened as Thoroughbred blood was introduced in an attempt to improve racing speed. Fortunately, the purebreds proved their merit in an incredible 2700-mile trek from Ashkahabad to Moscow, covered in 84 days. At one point, they crossed 225 miles of desert in only 3 days with virtually no water. Their feat convinced the authorities that all out crossing should be stopped and the breed preserved in its pure form. Veterinary checks on today's endurance rides show their remarkable cardiac recovery scores resulting from an incredibly efficient cardiovascular system and their "radiator"-type build.

Western hemisphere horse literature often labels the Akhal-Teke as temperamentally difficult, obstinate, and prone to moods, while in their native homeland they are described as incredibly Desana and friendloyal, one-owner horses. These are really two sides of the same coin and believed to be attributed to their original nomadic lifestyle, when they were treated as a prized member of the family rather than merely an animal possession. Their original breeders, the Teke tribesmen, needed a partner, not a docile serf. They wanted their horses to be fierce, fearless and self-confident, independent and full of Joie-de-vivre. Akhal-Tekes are highly intelligent, learn very quickly, and maintain their training easily. They do not tolerate repetitious, boring drilling, but excel in a varied routine and stimulating surroundings. They are forward, free moving, motivated horses, when bonded to their owner they feel a great sense of responsibility and loyalty towards them.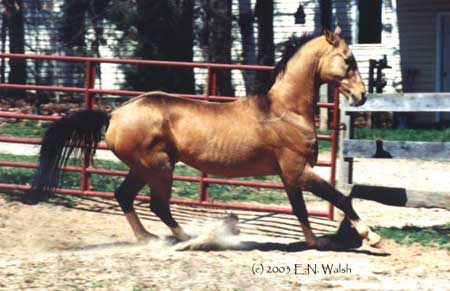 Akhal Teke horses are among the most comfortable riding horses ever, even compared to gaited horses (Paso, Icelandic Horse, Saddlebred, etc.). One of the main selection criteria has beenPahan with Yvonne Barteau their manner of moving. The Teke wanted a horse which "moves as a snake", which means they wanted flowing movements without a lot of swing in the area where the saddle is placed, they wanted horses which seem to glide over the ground, never really touching. A Teke horse covers a lot of ground without consuming a lot of calories, which means that all the gaits are directed forwards and are rather flat compared to the high stepping gaits of breeds such as warmbloods or Baroque horses (Andalusians, Lippizans), a trait much desired by their nomadic, warring creators, and maintained vigorously today. The Teke horse is an easy mover, it does not take a lot to make them move ahead and keep them doing so. Thus the rider can conserve his own energy. Their action is magnificent- free flowing, gliding and elastic; the horse seems to slink beneath the rider and cover ground effortlessly. It is a feeling like no other.

The Akhal-Teke is a remarkably sound and healthy horse, with a robust constitution. Their metabolism, engineered to subsist on meager amounts of food, has continued for centuries, making them easy keepers with low maintenance needs. Their hooves are strong and tough, rarely requiring shoeing; they rarely founder or colic with proper care. Fertility rates are good, mares foal easily without supervision, and often will breed and foal well into their twenties.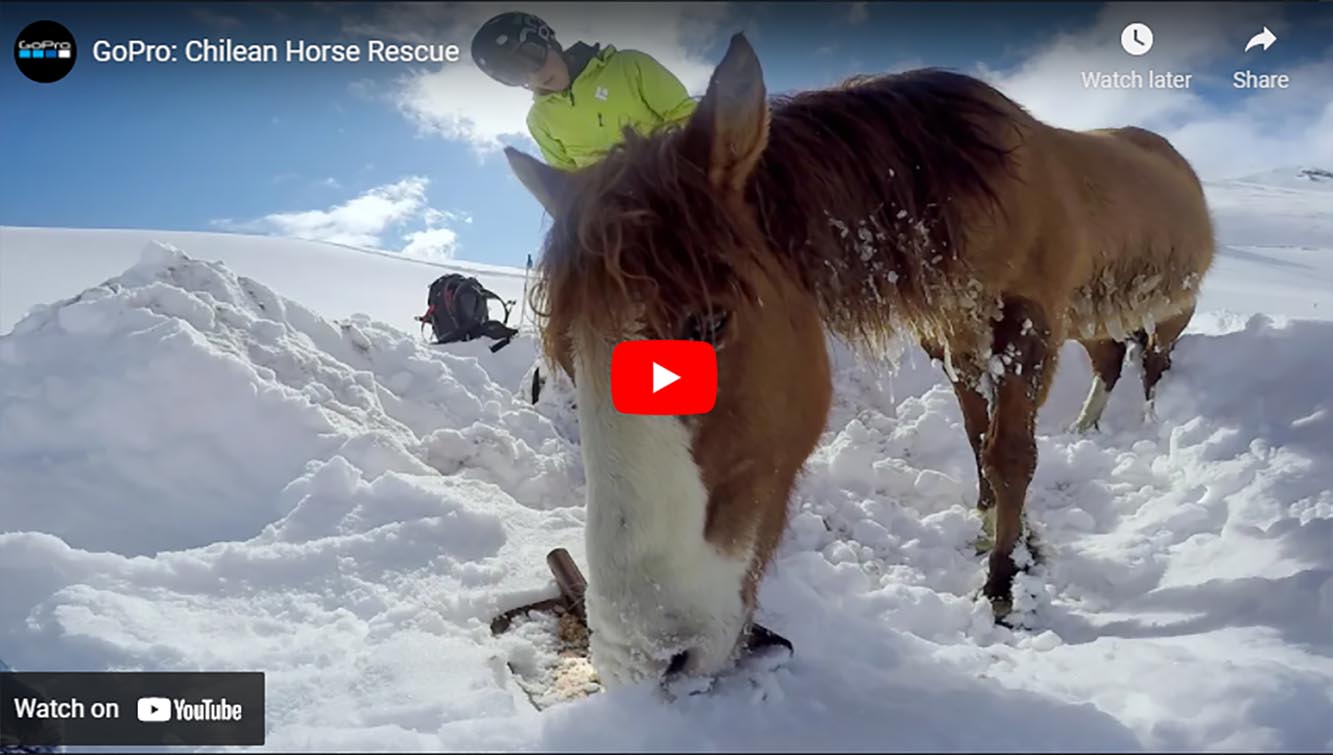 Rescue of horses trapped in the now in Chile, watch these heroes in action…
Read More