Equestrian Jewelry
Inspired by their grace and magnificent powerful structure here at Stableexpress we are continuously left in amazement of their spectacular ability to perform with such rhythmic movement. Through artists who have dedicated their lives for the love of horses now transform that love into unique artistic handcrafted sterling silver equestrian jewellery capturing the Spirit of the Horse in Motion.
Stableexpress shares in the artists enthusiasm through offering a select collection of choice pieces available through our on-line presentation.
We welcome you to view our entire current collection of one of a Kind Navajo bracelets in sterling silver and gold, rings, earring, pins and pendants each timely created for the Hunter / Jumper, Arabian, Peruvian and Appaloosa enthusiasts. By visiting us personally at the equestrian, events and shows listed below.
Browse through some fantastic horse themed jewelry on offer, here at stableexpress we find jewelry designers who embrace the beauty of the horse, with fantastic pieces and imaginative collections showing detail in craftsmanship and elegance for any occasion.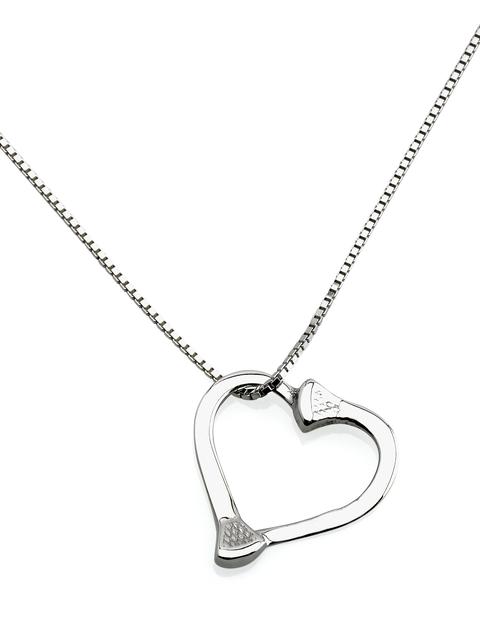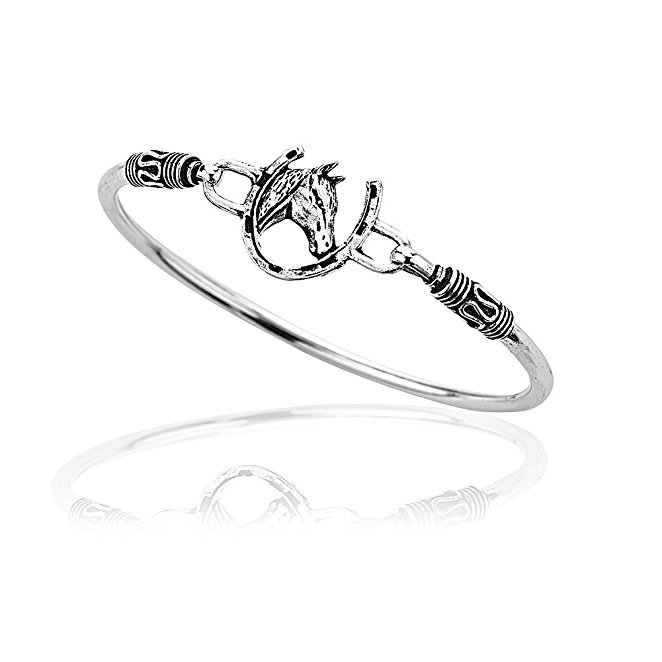 Made from 925 sterling silver for everyday use, Single horseshoe frames a horse for a subtle statement and your casual style…
Read More
Horse Jewelry
When it comes to horse lovers, we love to show our love for these beautiful creatures in everything we do and jewellery is no exception. Luckily for us, gone are the days when women were judged for wearing horse necklaces or clothes with horses on them, in fact now it`s even embraced and people who aren`t horse lovers are wearing this kind of stuff. Jewellery trends is always fun to follow, but now there are some really cool hot horse jewellery trends out there so it may be time to whip out a notebook and start taking notes for upcoming birthdays and holidays.
Horse Statement Bracelets
Animal jewellery in general is really hot right now, especially bracelets. These statement bracelets usually have zebras or snakes, but horses are beginning to show up too. You`ve got these lovely chain horse bracelets with galloping horses, as well as the statement kinds with horse heads where the body peters out into a bangle.
What makes these so awesome is that they`re actually really chic and elegant, while also showing a bit of what you`re passionate about. Perfect for going on date night with a fellow horse lover perhaps?
Horse Necklaces
Horse necklaces have been around for years, that`s not surprise, but they`re starting to make a bit of a comeback and are now seen as being really chic and stylish. Unfortunately, the prices of horse necklaces have gone up a lot in recent years now that they`re becoming more popular among the public and note just horse lovers.
What`s so amazing about this piece of jewellery is that it`s so versatile and can come in many formats. You`ve got statement pieces with intricate horse heads embellished with stones, full-on horses galloping or standing still, horse heads that turn into hearts, the list truly goes on and on. These are great because they come in all styles, colours and have the most versatility of all kinds of jewellery.
Horse Rings
Much like the animal statement bracelets, horse rings have become really hot right now. While you can still find understated and elegant horse rings, the most popular right now are the jewel-studded, statement ones. You`ve got ones with blue sapphires and ones that are a bit more sophisticated.
Another kind of ring that`s very trendy now is the horseshoe ring. These can be statement pieces or simple and beautiful, which makes them so wonderful. They`re arguably nicer because they have the essence of horses without being garish.
Horse jewellery is hotter than ever so it`s time to start making your wish list to show off your love for these beautiful animals even while at fancy cocktail parties.
Horseshoe Necklace
Beautiful hand made horseshoe necklace, ships world wide, simple design for all wear at any time, ideal gift for any horse lover.
Horses Leave Hoof prints On Our Hearts Keyring
Beautiful hand made horseshoe necklace, ships world wide, simple design for all wear at any time, ideal gift for any horse lover.
Engraved Horse Necklace
Beautiful personalized horse necklace, custom engraved with personalised message or name, horizontal bar style with horse shape.
Metal Type: 22 Gauge 925 Sterling Silver, 22 Gauge 14K gold filled, or 22 Gauge 14K rose gold filled
Dimensions: 1 inch wide and 1/4 inch high
Sterling Silver Horse Bracelet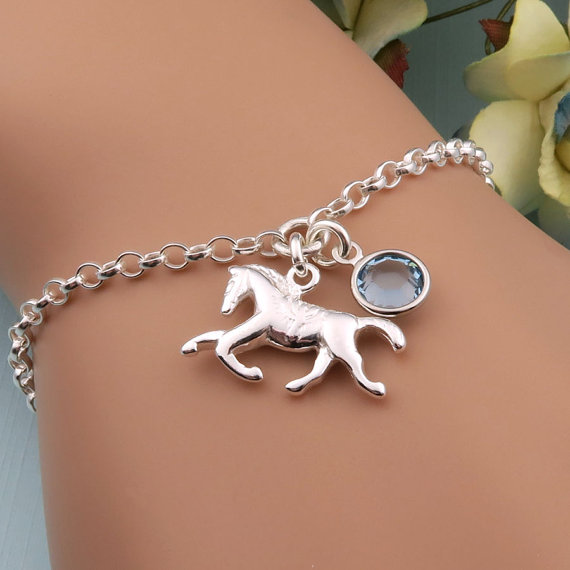 Attractive sterling silver bracelet, running horse charm with birthstone included (choose from selection of birth stones.) Ships worldwide
Equine Jewellery
Specialist equine themed jewellery for horse lovers made by horse lovers, world wide delivery, browse through our wide selection below. Horse themed rings, necklaces, charms, earring and other equine related jewellery, have them delivered to your door. Beautifully designed equine jewellery for everyday use and special occasions.