Ellen Whitaker
Ellen Whitaker is a member of the famous Whitaker dynsty, as a leading showjumping rider Ellen Whitaker is the daughter of Stephen Whitaker, along with her 3 brothers Joe Whitaker, Donald Whitaker and Tom Whitaker, Ellen Whitaker is married to Spanish showjumper Antonio Marinas Soto who she has two children, Harry Marinas Whitaker and Frankie Thomas Marinas- Whitaker.
Ellen Whitaker began competing at the young age of 5 and first qualified for HOYS at just 8 years of age. She was to continue her success riding ponies and then later as a young rider on horses, she is best known for her partnership with the impressive jumping stallion Locarno 62 who she represented the UK at the European championship were she jumped 3 clear rounds.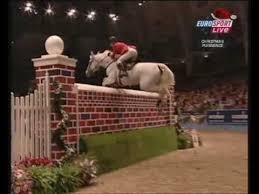 Ellen Whitaker Horses

Locarno 62
A talented stallion ridden by both Ellen and her farther Stephen Whitaker, Locarno 62 is one of the UK`top jumping and breeding stallions sired by Lord Calidos, Locarno 62 was the record horse sold at the Paul Schockemöhle sale for £622,000
Kanselier
A KWPN bred gelding Kanselier is by Notaris out of the Nimmerdor mare, Eriska. Along with Ellen Whitaker, Kanselier won many international classes including the speed horse of the year at Horse Of The Year Show,
Ximena
Born in 2001 Ximena is Swedish Warmblood sired by Irco Mena 763. Ximena was jumped by Thomas Whitaker and Joe Whitaker as well as Ellen Whitaker
Ladina B
Born in 1997 sired by Lauritz, Ladina B was very succesful in the jumping arena with Ellen Whitaker, including Puissance classes winning the puissance in Mechelen.
Zanzibar V
A talentated black stallion who is by the KWPN stallion Okland. Zanzibar is known for his good temperament as a young horse he qualified for the Foxhunter final at HOYS, international wins include 3* grand prix at Millstreet and a 2nd in the Ladies championship at the scope festival of show jumping.
Ashdale Futuro - Goldstein G x - (1995 )
Ashdale Futuro is a 17year Old Dutch warmblood by Goldstein bred by Jayne Ayer beautifully coated shiny bay 16.1 hands. Jumped absolutely exquisite. Ashdale Futuro has been a regular horse competed nationally and internationaly by Dave Quigley and then Ellen Whitaker.
Blageur
Boyram Little Boy x - (1992 ) Boyram!!!! International Grade A showjumper. This horse has had too many wins with Ellen Whitaker to mention them all but here are a few, he has jumped the Hicktead Derby, the cock of the north, won at Olympia, won lots abroad.
Briten
International show jumper Briten competed by leading lady rider Ellen Whitaker. Briten results include placing at many international shows including Hastings. BR>
Bullands Extrovert
International show jumper Bullands Extrovert competed by leading lady rider Ellen Whitaker. Bullands Extrovert results include placing at many international shows including Moorsele Belgium.
Canarias - Calido 7 x - (1997 )
Born 1997 Canarias is a show jumping stallion competed internationally by Ellen Whitaker, Canarias is is sired by the exception breeding stallion Calido out of a Landgraf I mare.
Caya Z - Chellano Z x - (2000 )
Year of birth: 2000, Breed:ZANG, Color:Grey, Owner:Pacheco Ecuestre GmbH & Co.KG, Passport number:GBR40278, Sex:Mare, Sire:Chellano Z, Sire Dam:Cevin. FEI ID GBR40278. Caya Z international show jumping horse.
Charlett
Competed by leading british lady show jumper Ellen Whittaker, Charlett had lots of success in the show jumping ring.
Charriol - Carthago Z x Zuenftiger xx (1996 )
Born in 1996 Charriol is an exceptional performance horse who won international show jumping events with Ellen Whitaker. Charriol combine great European bloodlines sired by two time Olympic horse Carthago Z out of a Zuenftiger xx broodmare.
Collector
Jumped by british lady rider Ellen Whittaker, Collector had lots of success in the competition arena. Stable express has information on Collector including showjumping results, videos and images of thousands of show jumping horses from around the world
Colour Of Life (1992 )
Born 1992, Colour of Life had lots of success in the show jumping arena with leading uk showjumper Ellen Whitaker. Together Ellen Whitaker and Colour of Life competed at Hickstead, Spruce Meadows, British Open, Olympia to name but a few.
Corline Z - Carthago Z
Horse Profile Corline Z - International show jumping horse Corline Z is a Zangersheide bred sport horse, jumped succesfully by leading lady rider Ellen Whittaker with wins at many shows arround the world including good results on the Spanish sunshine
CS Online - Irac de l`lle x - (1997 ) Formerly known as Ideal du Pichoux, CS Online is a stunning horse with excellent, correct conformation and three very athletic paces. His exceptional temperament and sensible attitude make him a very easy horse to handle in every way.
Desdamona - Almé
Desdamona jumped by both Ellen Whittaker and Joe Whittaker both of whom had lots of wins and places in the show jumping arena. Desdamon is by the selle francais stallion Alme, who is one of the leading breeding stallions of all time
Eleusis de Breve - Quidam De Revel x - (1992)
Eperlan Du Fouquet Count Ivor x - (1994 ) An international showjumper famous for my ability to conquer the ever demanding puisance wall at Olympia and horse of the year show but to name a few, Eperlan Du Fouquet also completed in the hicksted derby.
Fabriana - Fabriano x - (1994 )
Born 1994 Fabriana is an international show jumping horse competed by Tim Gredley as well as Ellen Whitaker. Fabriana was a very succesful in the show jumping arena, competing at Olympia, Mooresele, Hickstea, La Coruna, Rome amongst others.
Great Love II
An international show jumper Greak Love II was competed by Ellen Whittaker, one of Britains leading lady riders. Great love II has jumped around Europe with wins and placings at many top events.
Henri De Here - Cabri du Val x - (1995 )
Born 1995 by stallion Cabri du Val, Henri De Here is an international show jumper competed both both Ellen Whittaker and her brother Joe Whittaker, with wins in lots of classes especially succesful in speed horse events.
Hooker de Chanteau
Hooker de Chanteau is an show jumping horse with wins all over europe competed by both Ellen Whitaker and Joe whitaker, find competition results on Hooker de Chanteau.
Hotline
Kanselier - Notaris x - (1992 )
Ellen Whitaker and AK Kanselier - GP Qualifier - Competition Name: Kansellier, Stable Name: Chance, 170cm Chestnut Gelding, Born 1992, Owned by Stephen Whitaker and Dawn Markin. Kansellier was a successful show jumping horse who along with Ellen Whitaker
Kiwi Brave - Kiwi Gold x - ()
Koi d`Herchebourg
Showjumper Koi d`Herchebourg produced by Steven Whitaker and his daughter Ellen Whitaker, Koi d`Herchebourg competed on the spanish sunshine tour with Steven Whitaker and Ellen Whitaker as a 5 year old and as a six year old.
Krishna De Sisse - Elan de la Cour x Qredo de Paulstra (1998 )
1998 mare competed by British lady rider Ellen Whitaker, Krishna De Sisse is by the selle francais stallion Elan de la Cour out of a Qredo de Paulstra mare. Krishna De Sisse was competed as a young horse from the age of 5 and produced up the grades.
Ladina B
Stable name: Dina, 172.7cm Grey Mare, Born: 1997, Owned by Stephen Whitaker. Ellen says ... Ladina B (Puissance and 6 Bar Specialist) - Ladina B is a feisty mare, as many of you will know if you have seen her in action! She is a real fighter.
Laurens
Laurens was a succesfull showjumping horse that Ellen Whittaker competed in young rider competitions, when she first started jumping in seniour horse jumping competitions.
Lavinda - x - (1991 )
Lavinda is a competition horse competed originally by Sarah Lynch in young rider competitions before Ellen Whitaker took over the ride where she competed Lavinda on the international show jumping circuit.
Locarno 62 - Lord Calidos x Romino (1996 )
Naf Naf II - Indoctro x Nimmerdor (1995)
Ocolado Habsburg x - (1996 )
Stable Name: Oli, 170cm Chestnut Gelding, Born 1996, Owned by Stephen Whitaker & Dawn Makin, Equimax Ocolado is sponsored by Virbac Animal Health, manufacturers of Equimax and Eraquell wormers.
Quinten II - Darco x - (1994)
Quite Dutch - Quick Star x Voltaire (1997)
R.Rubertha 12 - Caretino
Rachmaninov
Show Jumping Database - Rachmaninov show jumper produced from a youngster by Ellen Whitaker, Ellen competed Rachmaninov as a five year old on the spanish sunshine tour at Vejer de la Frontera
Royal Rose
Royal Rose was bought as a 7 year old by Imperial Equines already having been placed at HOYS and produced to International Grand Prix level, before being sold to international show jumper Ellen Whitaker
Sefana - Emilion x - (1999 )
Stable Name: Anna , 16.3hh Bay Mare , Born 1999, Owned by Dawn Makin :- KWPN - Koninklijk Warmbloed Paardenstamboek Nederland EMILION x DIANA (Zeus). FEI ID GBR40730, National ID 99.10351, UELN 528003199910351.
Shearwater Mikado - Parco x - (- )
Mickey is a 9yr old gelding, he is by the Belgian Warmblood Parco (competed at Nations cup level by Ludo Philappaerts) out of a Hannoverian mare called Super G who used to belong to the Company (who is a half sister to Shutterfly).
Shearwater Upanda
Sadie is a 10 year old KWPN mare by No Limit. We bought Sadie in the January when she was 5yrs and for the first two and a half years she was produced locally by Neil Fiddes. She was a very consistent young horse and qualified for Newcomers
Sjarmette - Burggraaf
Show Jumping Horse Profile Sjarmette - Show jumper Sjarmette competed by leading lady rider Ellen Whittaker. Sjarmette is by the KWPN stallion Burggraaf who has become one of the leading show jumping breeding stallions in Europe.

Timo IV - Numero Uno x - (2008 )
Timo ~ 2008 Bay gelding by Numero Uno x Loretta W


Website Design For The Equestrian Industry

With an extensive knowledge of all aspects of the creative process we are able to manage your project from start to finish. With have a wide range of skills to deliver on all parts of the marketing process. We are able to deliver, corporate identity, graphic design solutions, brochures, catalogues, websites, product design, 3d photorealistic renderings and animation, product photography.

We are a UK based web design company, we have knowledge of all designing and developing tools & applications. We are online marketing expert with experience in the horse industry. Specializing in results focused web design We can (in consultation with you) deliver a site based around the needs of you and your customers. The benefits that we offer include, search engine optimizations along with the complete web package with an affordable price tag. We are open to work on small to medium business sites, organizations and individuals. We are happy to do ongoing maintenance and uploading of files, capable of doing word press blogs and templates if required. Our service include web design, web development, software development, search engine optimization (SEO) and all type of multimedia works.

If you want more information and interested then contact us. We promise that our service will be good. We hope ourreativity, knowledge, experience and skills will be able to fulfill your requirements. We will be looking forward for your kind response.

*********************SERVICES OFFERED*********************

» Static website design
» E-Commerce site design
» Business portal design
» Dynamic Website design
» Flash Web Design
» E-Catalogs / Brochures
» B2B Web Development
» E-Commerce website Development
» SEO
» Logo Designing
» Banner Designing
» Custom Graphics
» Illustrations
» Book Covers
» Brochure Designing
» Video Portal Websites