The Godolphin Arabian
The Godolphin Arabian is one of the most important and influential stallions in all of history, imported to England were who was to become a such a popular sire that he would become one of three stallions to found the modern thoroughbred.
Godolphin Arabian was born in 1724 in Yemen, he was gifted to the French King Louis XV, but the King Louis did not value the horse and would use him as a cart horse, he was later sold to England to a stud based at Longford Hall in Derbyshire by Edward Coke where he would remain until the death of Edward Coke in 1733. He was left to Roger Williams who would sell the stallion to the 2nd Earl of Godolphin who would place him at his stud in Babraham in Cambridgeshire.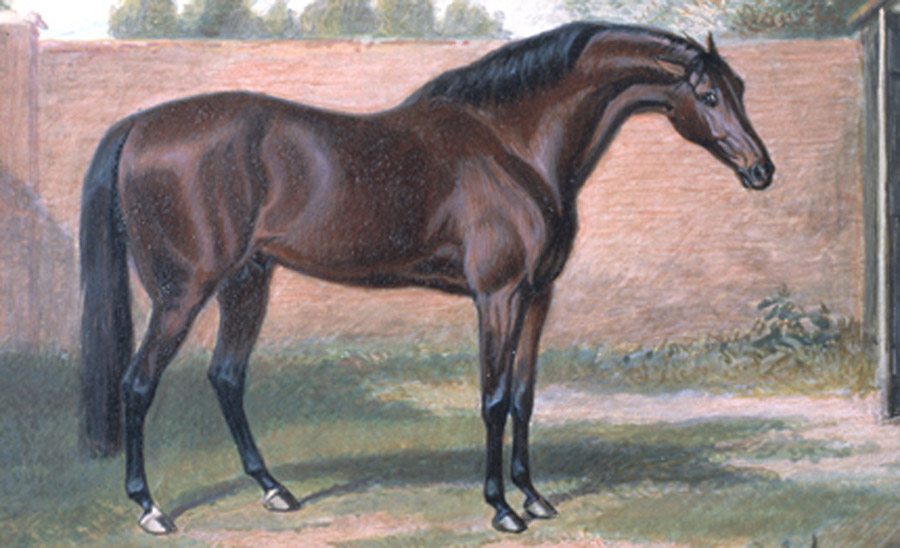 Bay in colour The Godolphin Arabian was 15hh in hight with a noticeable crest, There are some disagreements an his exact pedigree but it is mostly agreed upon that he was an Arabian stallion although some argure that he is more likely a Barb horse a breed from Tunisia.
Considerably smaller than many of the European stallions it took a while for English breeder to imbrace The Goldolphin Arabian. Originally a teaser stallion this would change when Lady Roxana would breed a mare to him after failing to use her first choice stallion Hobgoblin. The resulting foal Lath would go on to become a superstar of the track winning the Queen`s Plate at Newmarket on nine occasions. Lady Roxana would breed this mare to Goldolphin Arabian on two more occasions, producing Cade and Regulus, these would both also show their speed on the track and would become popular sires in there own right. The success of these early offspring would bring breeders rushing for the stud services of the Goldolphin Arabian and he would be the leading sire in Great Britain and Ireland in 1738, 1745 and 1747.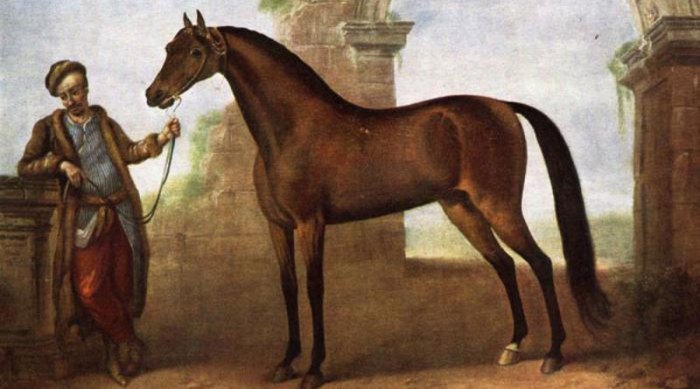 His bloodline would be carried to America when the filly Selima sired by him was purchased and imported to America by Benjamin Tasker Jr and would race on the track winning 2,500 pistoles at Gloucester, Virginia the bigest prize of the era in America. Selima would retire from the race track and become a broodmare at the Belair Stud in Collington, Maryland.
His bloodline can now be found in thoroughbred horses all around the globe, some famous names with The Goldolphin Arabian in there pedigree includes Man o`War, War Admiral and Seabiscuit.

Watch Video of The Godolphin Arabian descendants, Seabiscuit vs. War Admiral - 1938 Match Race