Simon Buckley
Now in his early 20`s, a young Simon Buckley began riding at the tender age of 4 or 5, when his legs were too short to reach the stirrups! From the family Buckley brood, Simon showed the greatest affinity with the horses, a working relationship with the animals, plus a `competitive edge`.
Even now, Simon is still a keen member of the Pony Club and as a young teenager he was part of the Pony Club Championship team.
At 11 Simon was jumping under Affiliated rules and achieved his first national win, the `Paul Fabrications Debut Championship` at 12 years old, on his home produced pony, `Stoake Nougat`.
His next mount was `Mr Minstrel` on whom Simon competed nationally, winning the `J.C. Championship` at Hickstead in 1998. In the same year the Buckley`s had acquired `Quayside Caution` as a novice pony and progressed it to `148 British Derby Champions` in 1998 also at Hickstead.
After a challenging and successful 1998, Simon went on in spring of 1999 to win 3 European Trials, culminating in team selection for the Great British Junior European Team. Still in 1999, the Junior European Team took Team Gold in Sweden beating their European counterparts. The close of 1999 also brought to an end Simon`s pony career.
The year 2000 saw a young horse `Lakeland Gold Diamond` brought over from Ireland as a novice, while Simon concentrated on his `A` level study year. Sadly in 2001 Cumbria was consumed by the dreadful Foot and Mouth Disease which curtailed early season equestrian competitions, however this did give Simon and his new horse time to work together and the pair progressed superbly well, winning `The Newcomers Final` in October 2001 at Wembley.
At this time Simon went to work for Adrian and Mary Marsh at `Heathcroft Stud` in Cheshire, where he stayed for 2 years. During these years Simon was bringing on `Lakeland Gold Diamond` and another horse `My Little Soldier`, so well in fact he was selected for `Accenture Young Riders Training Squad` an organisation, funded by the National Lottery, who`s aim is a performance start programme for young riders.
Unfortunately at the time of selection both of the young horses had been sold, the money they raised earmarked for the purchase from the Marsh`s, of`Worrior Van Dingeshof` a Belgian bred 4 year old, in December 2003.
Jumping is Simon`s main love, but he also enjoys bringing on young horses. In 2004 he broke and produced a young horse `H.S.F. Mackiver` on whom he qualified for the `British Eventing/Parra Breeding Championship` at Twesseldon and also `Burleigh Young Event Horse Final`. While `Worrior` qualified for `Style and Performance` at `Scope Festival` at Stafford and was placed 5th.
Simon and `Mackiver` were invited to compete in `Young Riders Final` at the International Horse Show; however `Mackiver` had been sold before the event took place and Simon did not compete.
Year 2005
In 2005 Simon has taken part at `Royal Windsor`, where `Worrior`, on hard ground, jumped out on time faults; however Simon`s new ride, the promising`Sylvano` owned by Mr John Heath, jumped clear, with 4 faults in round 2.
The horses competed at `Arena UK` at Grantham in Lincolshire, `Worrior`jumped double clear, while `Sylvano` jumped clear, but put a foot wrong in the jump off with a toe in the water.
Both qualified for `Newcomers 2nd Rounds` summer 2005. While `Worrior` qualified `Foxhunter 2nd Rounds`.
Up and coming events include `Royal Highland` end of June, a trip to Ireland with `The Lakes Riding Club` for an national final, the `Wells and West` at David Broom`s show ground; `City of Chester International` and the `Hickstead Derby Meeting` August 2005. Simon, `Worrior` and `Sylvano`, will also be in competition at `Dabs Equestrian Centre Fife`, `Arena 15` Northallerton` and `Lough Farm` at Carlisle.
The aim for 2005 culminating in the `Horse of the Year Show` at Birmingham in September, an event Simon last won in 2001.
Simon Buckley`s Ambition
All in all Simon Buckley`s main ambition, as well as bringing on winning competition horses, is to make the `British Senior Squad` and ultimately the `Olympic Team`.
Simon Buckley Horses
Dominga II, Lakeland Gold Diamond, Silvano (UK Show Jumper), WORRIOR VAN DINGESHOF
---
Simon Buckley Competition Results
07 - Scope, 7 Year Old Championship - 03/09/2006 - Silvano (UK Show Jumper)
---
04 - Scope, 7 Year Old Championship - 03/09/2006 - WORRIOR VAN DINGESHOF
---
01 - Scope, Foxhunter Masters - 30/08/2006 - Silvano (UK Show Jumper)
---
07 - Horse Of The Year Show, 6 Year Old Championship - 14/10/2005 - Silvano (UK Show Jumper)
---
16 - Horse Of The Year Show, 6 Year Old Championship - 14/10/2005 - WORRIOR VAN DINGESHOF
---
03 - Horse Of The Year Show, Newcomers - 12/10/2005 - Silvano (UK Show Jumper)
---
05 - Scope, 6&7 Year Old Preliminary Round 2 - 03/09/2005 - Silvano (UK Show Jumper)
---
18 - Scope, 6 Year Old Preliminary Round 1 - 02/09/2005 - Silvano (UK Show Jumper)
---
20 - Scope, 6 Year Old Preliminary Round 1 - 02/09/2005 - WORRIOR VAN DINGESHOF
---
05 - Scope, Newcomer Masters - 30/08/2005 - Silvano (UK Show Jumper)
---
11 - Scope, Young Riders B & C Championship - 29/08/2003 - Lakeland Gold Diamond
---
01 - Scope, Grade B Championship - 28/08/2003 - Lakeland Gold Diamond
---
07 - Scope, 1.15m Members Cup Preliminary Round 2 - ii - 27/08/2003 - Dominga II
---
01 - Horse Of The Year Show, Newcomers - 07/10/2001 - Lakeland Gold Diamond
---
Simon Buckley | ELIA, CUM LAUDE 8, FAIR CHANCE, GUBEON ANNIE, GUBEON JUNIOR KANNAN, MILLFIELD COUNTERFEIT, PEWIT DEZESSEIS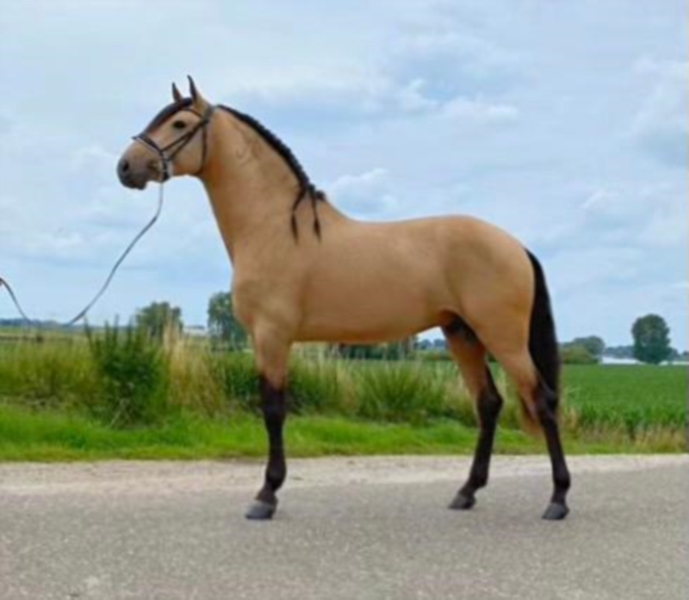 Nectar Da Toula - Buckskin Lusitano Stallion, 16.1hh, 2017 / 5324 AZ Ammerzoden, Netherlands, Telephone : +31 (0)625408434, Buckskin Dressage Stallion For Sale…
Read More