Painted Wap Meyers Watermark - Appaloosa Horse For Sale
| | | |
| --- | --- | --- |
| | | Painted Wap Meyers Watermark - Appaloosa Horse For Sale |
Painted Wap Meyers Watermark - Mare, Near Leopard Black, 15.3HH (1.60m),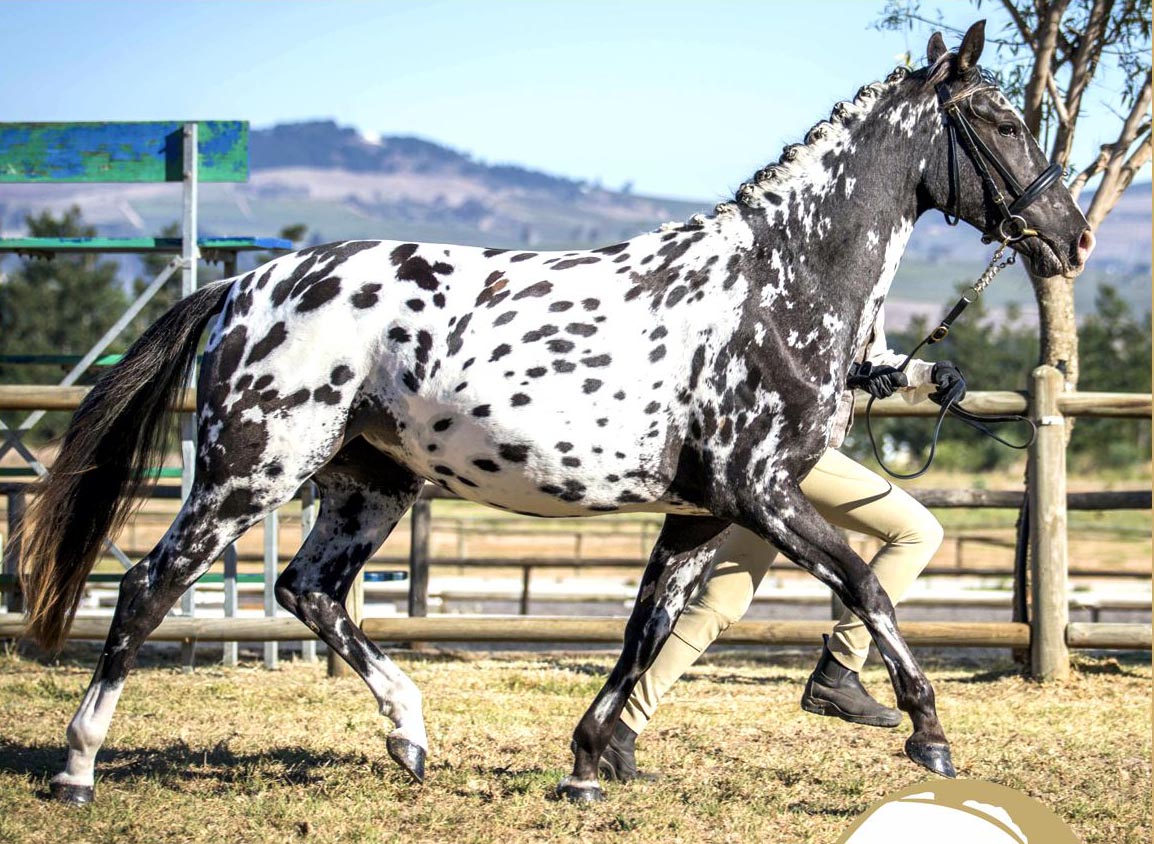 Africa`s Appaloosa Sport Horse Stud
The Appaloosa Sport Horse was introduced into South Africa in 1997 by ourselves with the importation of semen from the widely acclaimed American Appaloosa Sport Horse - Wap Spotted - whose progeny have proved themselves in the performance circles.

Our first foal born from this semen was AFRICA`S WAP born on 1st January 2000 - proclaiming a new era of excellence in our breeding programme.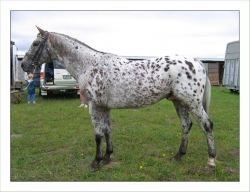 We strive to breed a sport horse of quality, adhering to all the important characteristics which contribute to the success of the modern day sporthorse/warmblood - conformation, size, bloodlines and ability, to name a few. To this we add the exceptional temperament and intelligence of the Appaloosa - with a splash of colour. This horse is naturally intelligent, co-operative, attentive and has a no-nonsense type of attitude.

Telephone : +27 (0) 45 843 1716 / Email : info@appaloosasporthorse.co.za

Africa`s WAP - Appaloosa Stallion - 1st of January 2000 was a very special day the day of entry into the world by our future sport horse prospect, Africa`s Wap. His entry was the culmination of years of pre-planning and dedication by all concerned. He is the first Appaloosa to be conceived via frozen semen in South Africa and is a worthy fore-runner for all future progeny conceived via this method. We owe a great deal to Cheri Moats owner of Wap Spotted - from Kismet Farms USA - for her willingness to help us. Her knowledge and expertise has greatly contributed to the future of our stud.

Africa`s Wap (the Appaloosa colour gene is represented as "wAp". The "w" is for the white gene, the "Ap" for the Appaloosa white gene.)

is siring foals with bone, excellent conformation and size. His Dam is El Jay`s Brackenwood a Warmblood mare from Wachmann ll lines and his sire, the internationally acclaimed Appaloosa Sport Horse Wap Spotted.

Africa`s Wap is presently being produced by Jennifer Whyle who is well-known and respected for her expertise. Watch this space!

We are delighted with Wap`s first show experience where he achieved 67.7% in his pre-novice dressage test, subsequently winning his class. Then he proceeded to win the stallion - in - hand class at the 2004 East London Agricultural show - not bad for his first time out and we congratulate both Jennifer and him on his performance.

Due to an injury (15cm long, pencil thick piece of wood penetrated his neck) at the Agricultural show, he has been on extended leave and has once again taken up stud duties . The slight bump on the lower, middle section of his neck is the only evidence left. However, this year 2006 - he will be back in action and proving that the Appaloosa Sport Horse can do it!

Well, he`s done it! He and Jen Whyle have just returned from the East Cape Dressage Championships and had magnificent results after only being back in work for 2 months. Came 2nd in the Pre-lims and 3rd with 60% in the Novice dressage test - competing against very experienced novice horses - the winning score being 63%!

Wap has now returned to us for his stud duties and then will be winging his way to Johannesburg where he will be produced further by Evan Anderson and Angie Neves.

Africa`s Painted Sky - This exceptional and talented stallion is the result of the crossing of an Appaloosa few spot stallion and a very correct TB mare. He has inherited the best of both his sire and dam and his movement is being passed on to all his progeny, as is his gentle temperament. So far he has proven to be a high-colour producer, especially his progeny from solid TB and Warmblood mares.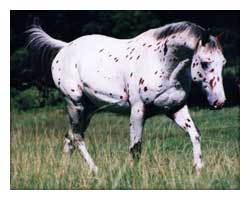 Achievements:
1st Appaloosa Stallion in-hand Horse of the Year Show 2000
Appaloosa Reserve Champion - Horse of the year Show 2000
1st Sport Horse stallion/gelding in-hand under 3 years East London Agricultural show 2000
WE ARE SADLY OFFERING PAINTED SKY FOR SALE. HE IS STANDING WITH VEE LAROS UNTIL SOLD. PLEASE CONTACT HER ON 083 377 0502 OR 011 705 2937

Africa`s Dream Catcher - Dream Catcher was one of the first foals bred by us and one of the only fillies we have kept to breed from. She has had a brief, jumping, eventing career where she showed brilliant potential, in a very short space of time jumping CB. She is now being offered for sale and will suit an experience child or junior rider. Dream Catcher has the ability to quickly attain her CA status and carry the same rider right through to JA. Her eagerness to jump and event is tangible and her first love. Her dam was a JA TB name Glory Bound and her sire is Alpha Toby`s Navaho.

Dream Catcher has had her first foal, and as expected, it`s a beautiful colt - Africa`s Wap`s Dream

Africa`s Marsbar - Marsbar was bred by ourselves out of a Thoroughbred mare, Centre Attraction ,who was sired by Foulaard and she is by the well-known A-grade W. Blood stallion, Wunderbar.

She has excellent paces and was backed before she had her first foal for us.

SOLD TO LUKE MILLER OF EAST LONDON - This is the 2nd Africa`s horse to be owned by Luke and we wish you just as much success on Marsbar as you had on Africa`s Kitkat.

Africa`s Rhythmic Twist - Twist was bred by ourselves out of the thoroughbred, Rhythmic Dancer and sired by Alpha Toby`s Navaho.

Currently, although only standing at 15hh, she has had two enormous foals for us,by Africa`s Wap, both with exceptional quality.

Twist`s 3rd foal has made it`s appearance in the form of a very dainty filly named Africa`s Two Step- by Africa`s Wap photo to follow shortly!

Alpha Toby`s Joy - At the ripe old age of 24, Joy has given us 4 wonderful foals. Currently she is not in foal, but we are hoping for just one more from her by Africa`s Wap....... will have to wait and see! Joy is our only true Appaloosa mare.

Joy has just had her very last foal, at the age of 24! A beautiful little colt by Africa`s Wap. Photo to follow shortly. Foal born on the 17th March 2006

El Jay`s Bear Essence - Bear Essence is bred out of Estril (sired by Chicago) and sired by El Jay`s Wonder Bear. Wonder Bear was sired by Wunderbar and out of Voigtland Eskort . Currently in foal to Africa`s Wap. She stands at 16.2hh and is the most wonderful, gentle mare who will do well in dressage.

Currently she is for sale to a good home

El Jay`s Brackenwood - This is the dam of Africa`s Wap and Africa`s Annonymous, both sired by Wap Spotted. She breeds big and substantial foals and her off-spring have consistently proven themselves in the arena . Sire: Wisconsin (Wachmann ll) dam: Amazing Grace xx.

Africa`s Wedgewood has arrived and what a stunning colt. By Africa`s Painted Sky. Photo to follow soon

Magical Shoe - Shoes is a very pretty TB mare by Shoe Danzig. She has a tremendous temperament and we are very excited about our breeding programme with her. To date she has just had the one foal, Sweet Mischief for us and in currently in foal to Painted Sky.

Shoes has just foaled - a beautiful colt - Boots `n All -by Africa`s Painted Sky - photos to follow soon

Miss Galaxy - Leopard filly 1/2 Appaloosa 1/4 Warmblood 1/4 Welsh cob sire: Africa`s Wap out of Miss Winterbottom ( NOT FOR SALE)

PARK CAFE - This lovely TB mare is being offered for sale. Her sire is Camden Park (Danzig lines) and sire of dam is Elevation.

She has the most amazing temperament- sweet and gentle and will suit any rider. At present she is standing around 16.1hh and obviously hasn`t finished growing yet. Will also still fill out as not yet 4 years old.

Placid Water`s Miss Winterbottom - This very special mare has won numerous showing classes, both open and Appaloosa Classes during her life time. She is 1/2 Welsh cob and 1/2 Appaloosa and has bred many outstanding foals for us. She is one of a kind.

Pohlands West We Go - Sire: Wachmann lll out of The Rose Tatoo xx (who was sired by Flower Power xx). She has just produced a stunning filly, Go West by the Warm Blood stallion, Perfect Move.

We are very sad to report that we lost this wonderful mare on the 3rd March 2007 shortly after she gave birth to her third filly in a row . We will miss her comic character.

The foal is doing well and keeping us on our toes!

Rhythmic Dancer xx - Standing at 16hh and from Del Sarto Bloodlines, this mare has had 3 quality foals for us. One of which, Africa`s Twist has herself in turn, become one of our broodmares.

Due to her inability to breed any further foals for us, we very reluctantly offer her for sale. She is 14 years old and has the most wonderful nature. She`s currently being hacked out on the farm again and will be suitable for an experienced rider who justs wants to have some fun with a tremendous companion. Rhythmn used to do a great deal of show jumping in the Western Cape and was very well schooled. She would also be suitable for someone who wanted to do dressage. Good home only please.

SOLD. Congratulations to Christine Blackett!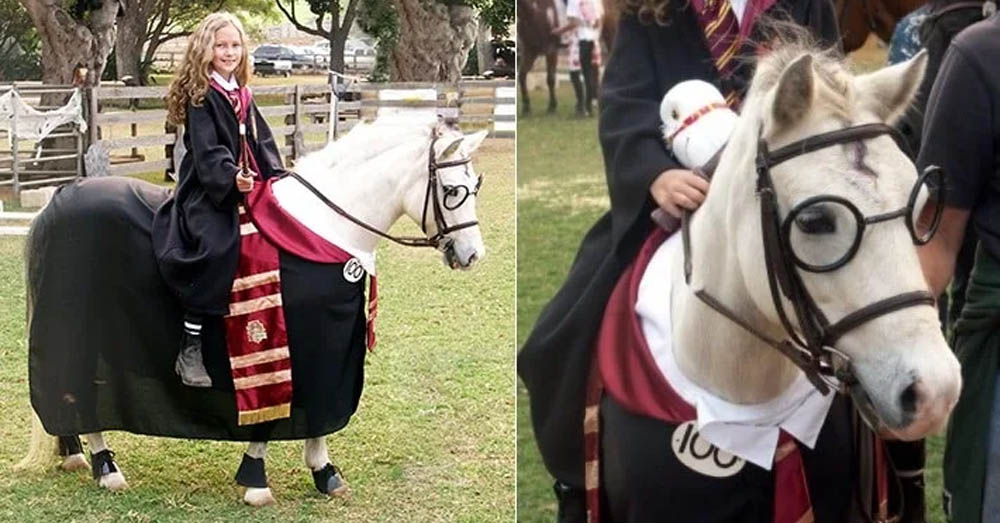 Harry Trotter and The Hoof Blood Prince :- Any fans of Harry Potter, here are some fantastic Harry Potter themed fancy dress costumes, post yours in the comments below…
Read More