New Forest Ponies
The New Forest Difference
- Always one to have a good amount of respect for the stallions, and no real desire to have one of my own, Luckington Legacy turned out to be the game changer, and the one who set the bar pretty high for any other stallion prospects on the farm. Very well behaved, on the farm or off, breeding season or not, he`s always easy to handle and fun to be around. Smart, personable and handsome - what more could one want? And, luckily enough, all are traits he passes on to his offspring
Stonfield Sport Ponies
Luckington Legacy - British New Forest Stallion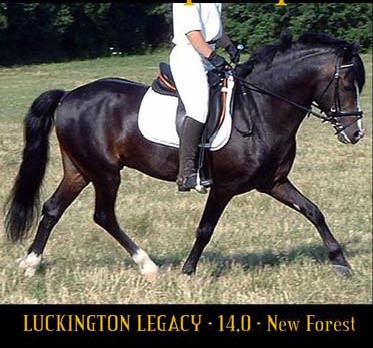 - 14.0 HH, Dark Bay - Licensed by NFPSNA, NFPB&CS, NFPA Luckington Legacy holds a place of honor at the farm, being one of the best behaved stallions ever known! Retired from riding, he now gets to enjoy being king of the hill, watching his youngsters grow up and head off on their careers. Legacy was imported to North America from England as a youngster, after having shown and won in-hand as a yearling in England. He started his legacy in Canada, where he sired lovely offspring in British Columbia and Alberta, before heading to the US in 2005. He currently has two licensed sons in Canada, one in BC and one in Alberta, with a third prospect exported to Ontario and a part-bred son standing in the US. Carrying great New Forest bloodlines, he is half-brother to both Luckington Sportaide and Wayland Cranberry who have had tremendous showing and breeding careers in England.
His dam`s sire, Vernon`s Vineyard, is found in some of the best New Forest pedigrees throughout the world. True to his pedigree, Legacy exhibits incredible NFP quality, movement and pre-potency for throwing nice moving foals with good brains and a sense of humor. A beautiful head, neck and topline define Legacy`s classic New Forest style, with lovely movement and plenty of push from behind. A dark bay with hind socks and a blaze, Legacy stands at just over 14 hands. Quiet enough for even children to work around, Legacy enjoys both work and play - traits passed on to his offspring. Lightly shown in dressage, he`s received several scores in the 70`s, even winning high-point honors with an incredible 77.27%!
His offspring in North America are competing in everything from dressage to eventing, hunters to driving. All are reported to have great temperaments, be easy to train and, when competing, are doing well against the ponies and the horses
Dimmans London - New Forest Pony Stallion Prospect
- 14.1 HH, BayDimmans London is the newest stallion prospect on the farm, bringing some new New Forest bloodlines to the herd. Hailing from Sweden, he brings a nice blend of English and Dutch performance lines. London`s sire, Dimmans Eros, has made a big splash in Europe, with multiple European Championships in both Show Jumping and Eventing, with his most recent win being Gold in 2015 for the Swedish Eventing Championships. Looking much like him, Eros` full brother, Dimmans Edward, was exported to the Netherlands, where he went on to successfully complete stallion testing in Germany and now stands at stud.
On his dam`s side, London descends from a lovely Dutch mare, Lady Jane, by Kantje`s Ronaldo and out of a Carlo mare. An extremely popular stallion in the Netherlands, Kantje`s Ronaldo was named the Dutch New Forest Stallion of the Century for his performance, as well as that of his offspring, with several licensed stallions to his credit. Carlo was the Dutch national champion or reserve for four years, and may best be known in this country as sire of Forrest Flame (in turn, sire of eventing super-pony, Forrest Nymph).
Lady Jane has one licensed son standing in Sweden, Miclas Aristocrat, currently competing in Show Jumping, and having earned a very respectable sixth in the 2015 Swedish Championships. London is a unique shade of bay with some roaning and a little chrome to break it up. He`s displaying a wonderful temperament, very agreeable, tractable and, yes, bold – good New Forest Pony characteristics! A rather elegant and leggy colt, he`s expected to mature around 14.1 hands, perhaps a hair over.