Michael Whitaker Home and Stable Tour
Michael Whitaker, four time hickstead derby winner, Olympic silver medalist, two times world Championship medalist and three times European gold. Michael Whitaker has produced and sat on some of the very best horses in the world. At the age of 20, Michael won his first big title for Hickstead Derby. Since then, Michael Whitaker has lost none of the fire that drives him towards World Cup titles and of course, Olympic gold. Based in Nottinghamshire, horses have always beena part of Michael Whitaker`s life.
Michael Whitaker started competing internationally from a young age, since those early days Michael Whitaker, as the brand, is a very big business, producing horses right up to the top level. Michael Whitaker`s stable yard has got probably about 40 boxes. Unfortunately, most of the time they`re full, there`s a lot of work. At his yard they do everything from the really young horses, four year olds, up to Grand Prix horses. Michael Whitaker have a lot of horse in between bringing them on, you have to produce them, you have to bring them on from young horses and hopefully get them to the Grand Prix level.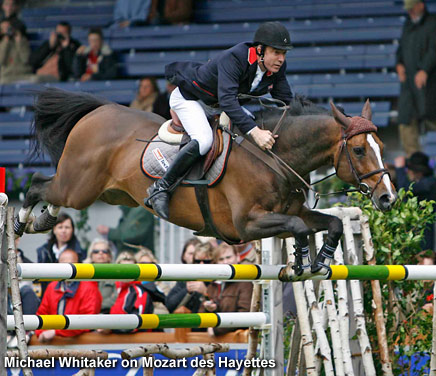 Michael Whitaker needs at least three Grand Prix horses to carry on around the circuit. The sport of showjumping is now a twelve months a year, so you need a number of horses to compete. The horse that currently heads Michael Whitaker`s string is Amai, twelve years of age now, a horse that`s competed in Nations Cup for Michael and also won the World Cup in Verona. Amai came here as a six year old. He hadn`t done a lot, he`d done a little bit, he hadn`t done a lot, he`s twelve now, so he`s been here six years, but they nearly need to be sort of ten year old before you can really start to ask them the questions. You can do a bit more when they`re eight and a bit more when they`re nine.
The horse that stepped up to the top of Michael`s string in the meantime is the ten year old Viking, a very exciting prospect that`s been gaining international experience. He`s jumping the big Grand Prix now, he was fifth in Basel, which was a big one, he was fifth in Paris, which was a big one, so he`s going really well.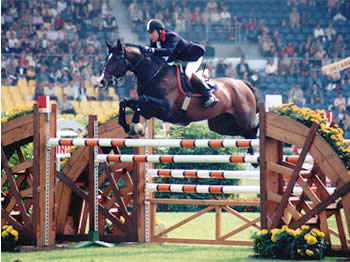 It`s really important to have the other riders here, the younger riders here. It`s a mammoth operation that Michael can`t run single handed.It takes riders, drivers, grooms and a big backroom team to produce all those top horses. Then we sort of have to sift through them a little bit, see which ones we think have got the potential to go right to the top, or the ones that could make nice horses for amateurs, or because not everybody wants to jump around the Grand Prix courses, so there are horses for everybody.
Michael Whitaker is a complete horseman, and is fantastic to be around him, just to be around the yard, see how things work. He`s ridden a lot of horses, a lot of different horses, and the kind of the same ones that we`ve got here. Every horse is different, he can just give you little tips on which bits to ride, how to work them, how to feed them, maybe leave them in the field if they`re too fresh or whatever. He gives little tips like that every now and again.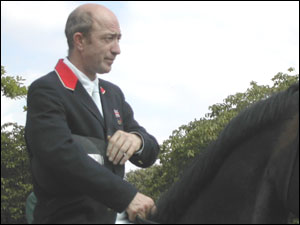 Horses are not just a business, but a lifestyle, something that Michael Whitaker lives and breathes everyday of his life from his home with Melissa and their three children. It`s a house that`s full of memories of a great career, but still very much on track.