Lulu Cake Boutique
Based in Manhattan, Lulu Cake Boutique create luxurious cakes for any occasion, pouring love and passion into every creation using the finest ingredients to create great looking cakes without compromising on taste. If you are in need of a bespoke cake, call Lulu Cake Boutique on 914-722-8300 or visit there website http://everythinglulu.com.
Below you can see this fantastic gymkhana cake making an ideal cake for any horse loving daughter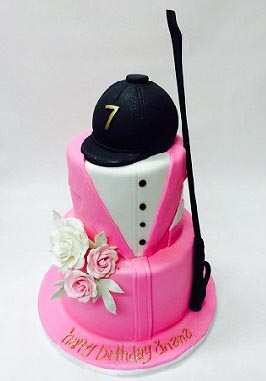 Wedding Cakes
Lulu cake boutique have experience catering for hundreds of weddings, creating beautiful wedding cakes that will elevate the special occasion.
Celebration Cake
The perfect cake for that special occasion. Lulu boutique are experts in creating bespoke cakes tailored to your specific requirements making your cake idea`s become a reality.
Disney Cake
Disney have creating some truly iconic characters loved by kids all around the world, below you can see an example of a Disney cake celebrating some of the characters who began Disney, Mickey Mouse, Donald Duck and Goofy.
---
Cake Decorating Tools
Cake decorating tools are a cake decorator`s best friend. Using the right equipment makes designing much easier. The right tools will also give your cake a more professional look. Knowing which tools to use and when to use them is important.
Don`t Forget these Basic Tools Also
Here are some other tools that are handy:
Apron - This hobby can get messy sometimes!
Rubber spatula - to make sure you get all of your cake batter and icing out of your bowls
Mixing bowls - having several different sizes of bowls comes in handy for mixing different colors of icing
Extra powdered sugar - keep some extra around to thicken up your icing if you need to.
Scissors - to cut cake foil or pastry bags
Paper towels and a towel - again, cake decorating can be messy. I keep a towel attached to my apron to wipe my hands on.
Mixer - Investing in a good stand mixer is a great idea if you plan to make cakes or do a lot of baking. They make the whole process a lot easier.