Lorcan Gallagher
I was born in Newry, County Down in March 1991. It was not until the age of 10 that I started riding competitively with the Iveagh pony club. Like my brother Eoin I travelled to Hickstead but was unable to repeat his success as my team was less fortunate as we were placed just outside the top 6. But the most important thing was that I gained invaluable experience. Having numerous wins at pony levels under the instruction of Eamon Rice I progressed through the ranks quicker than expected and competed at the Failte Ireland Dublin Horse Show in 2006. I moved on from ponies into the horse ranks as a junior in 2008 and formed a successful partnership with Oakhill Supreme, a horse my parents purchased.
In our first year competing on the national circuit we won several classes up to 1.35 level and placed second in the first RDS 1.35 young rider qualifier. The following season I began training with Irish International Show Jumper and former World Champion Dermott Lennon. Dermott and his wife Sandra have been incredibly supportive of me and they have given me some unbelievable opportunities. When Eoin left Dermott's yard to move to his new base in England I started riding more often with Dermott and at the beginning of May 2010 I began working full time at his yard outside Banbridge. The experience gained from that move has been invaluable; to work with such a high standard of rider on a daily basis has changed my riding completely. My results also improved and I began getting better and more horses to compete at shows.
2011 began as I meant to continue as I won the 7 year old championship with Newmarket Venture Clover at the Balmoral CSI** as well as placing's in the international classes with Arsalla. Both these horses went on to gain more prestigious results throughout Ireland with regular placing's in the Grand Prix circuit finishing third in the overall Autumn series as well as the leading young rider of the league. Having competed at the RDS again this year, as an international for the first, but hopefully not the last time I gained more invaluable experience thanks to Dermott. I then went on to win the Young Rider Grand Prix in Cavan in October as well as 3rd place in the Grand Prix. These results were backed up with 4 more top 6 placing's at grand prix level before the end of the year as well as the Cavan International CSI* with Arsalla and Cuba Libre. Hopefully I can build on these results in 2012! I now work and ride in the USA for Shane and Ally Sweetnam at their Sweet Oak stable in Florida and Kentucky. Lorcan Gallagher - Ireland - Showjumping Gallagher Sport Horses is an international business specialising in the production and sale of quality competition horses for show jumping and eventing. Eoin and Sam Gallagher are based near Leadenham in Lincolnshire, England and Lorcan Gallagher is currently working in West Palm Beech, Florida, USA.
We offer full training and competition livery for clients all over the world. We have also built up a vast network of agents and clients which gives us the ability to sell your horse with a very unique approach to international advertising and marketing.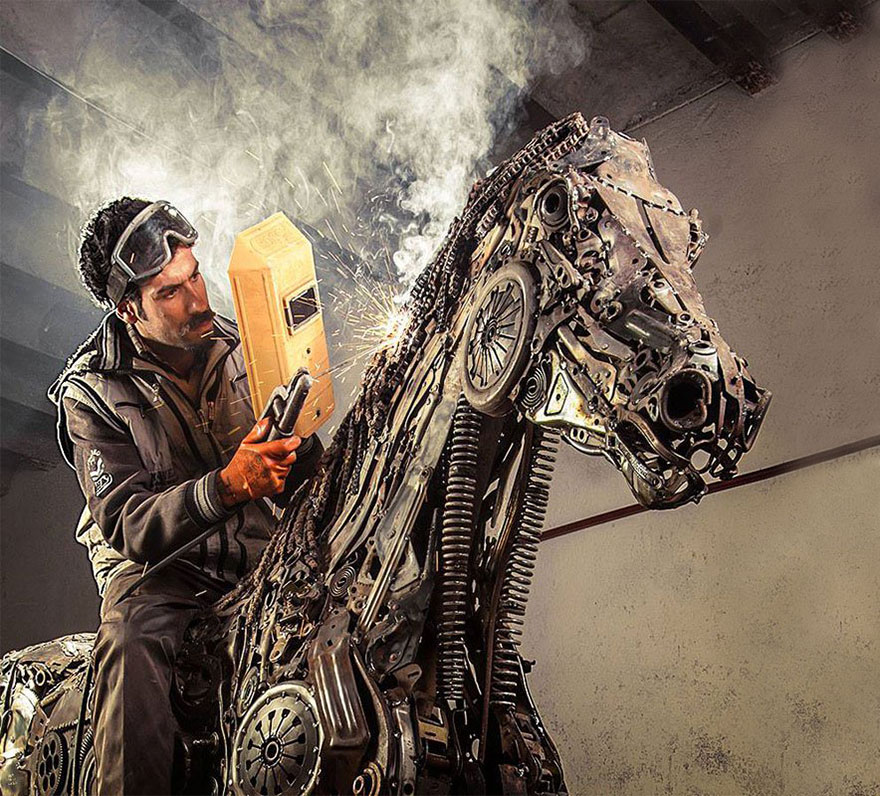 Iranian artist Hasan Novrozi, creating stunning horse themed statue`s from scrap metal #Horse Sculptures #Steampunk Horses # Equestrian Artist…
Read More
Sergio Ferreira
Sergio Ferreira - Portugal - Eventing
Jordan John Thompson
SASKIA SINSEIR , BALOU FAIR 26.5 , BELUCCI , CARASTONE 11 , CES WICKED CONTENDER , CHENTO D , DIAMO SPECIALE , ILLUSION VI , JALISCO ROYAL , LANKAS , LEANDRO VD EIKELBOSCHERHEIDE , LIFE OF REILLY , ZANDRINO M Z
Shirley Singleton
Shirley Singleton - USA - Dressage Rider
Stefanie Blevi-Vantieghem
Stefanie Blevi-Vantieghem - Belgium - Dressage Rider