Irish Sport Horses - Then and Now
Irish sports horses have a long history of success in equestrian sports most notably show jumping and eventing. Irish horses are renowned for having excellent brains while still being highly athletic and possessing a scopey powerful jump.
King Of Diamonds - Irish Draught Stallion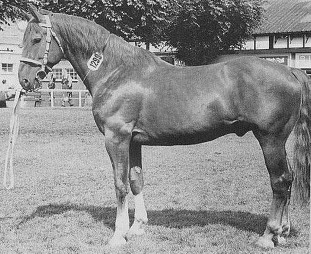 King of Diamonds made a huge impact on sport horse breeding in Ireland and the resent of the world, between 1990 and 1995 King Of Diamonds was ranked in the top 10 sires for showjumpers in the world. Progeny of King of Diamonds include Special Envoy competed by Brazilian showjumper Rodrigo Pessoa, Carroll`s Royal Lion, competed by Irish legend Eddie Macken and breeding stallion Diamond Lad to name but a few successful progeny of King Of Diamonds.
Below you can watch a video of British rider Geoff Glazzard riding the impressive Irish show jumping mare Sunnora.

Cruising - Irish Showjumping Stallion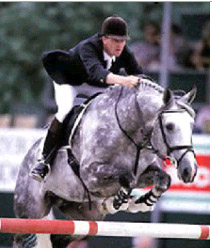 One of the worlds leading showjumping horses, Cruising was competed by Irish rider Trevor Coyle and the pair world become one of the worlds leading horse and rider combinations with wins in numerous grand prixs and international events, one of the most prestigious results was the victory in the Aachen grand prix in 1999.
Clover Hill - Irish Sport Horse Producer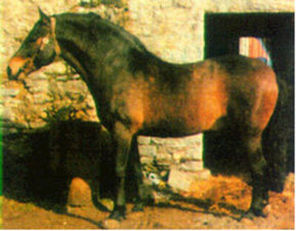 Clover Hill was a prolific sire who produced over 1,700 foals over his lifetime, offspring of Clover Hill include over 40 international showjumpers which helped him rank in the top 5 showjumping sires in the world.
Irish Sport Horses For Sale
Wisconsin Irish Sport Horse
- Yearling Irish Sport Horse for sale. At 10months "Red Pearl" stands 14hands. She is out of 17.1hd, 1/2 Trkehner mare Faleena, by Irish Draught Mountain Pearl. She is a chestnut with hind socks and a star on her forehead, has good bone without undo bulk. She is willing and very friendly. $12,000.00. Celtic Farms, Sandy McCosh mccosh@usa.com, E8928 CTH P, Westby, WI 54667 (608)634-2252.
Snowford O`Donnell - Irish Draught Stallion
Snowford O`Donnell is a black Irish Draught, Stallion (RID) imported from England; registered and approved. Snowford is 16.1 hands, has 10" of good, flat bone and an 80" girth. Born August 1991.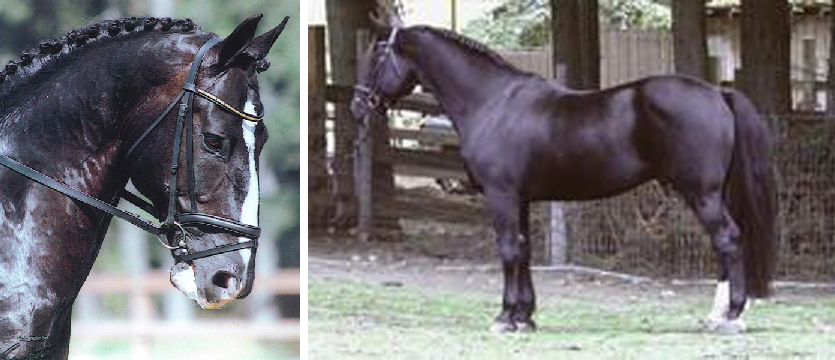 Snowford O`Donnell was named 2006 Hunter Sire of the Year by the Northwest Sport Horse Breeders Association (NWSHBA).
Snowford O`Donnell`s Lineage & Early Years Snowford O`Donnell was bred and born in England, out of the great stallion producing mare Harepark Pink, and by the winner of the first British 100 day test (all breeds), show jumper Banks Fee Daniel. Bred by Pam Symonds at Snowford Hill Farm in Long Ichington, Southam, Warwickshire, England.
Imported into the United States as a yearling, he started his show career in hand as a 3 year old, winning both the 3 year old Reserve Championship in Hunter Suitability and Dressage Suitability for the year under the Northwest Sport Horse Breeders Association auspices.
Training & Superior Breeding Qualities
Snowford O`Donnell went to Canada for training under saddle and began breeding, siring the first purebred Irish Draught horse born who`s sire and dam both reside in North America, Mac`s Snoderin. Snowford O`Donnell also sired the eventual 2003 winner of the Canadian Warmblood Associations National Inspections, Celtic King. In 2000, while inspecting several of his Canadian offspring, the visiting Irish Draught inspectors commented that O`Donnell had the best group of foals they had seen.
After a couple of years in Canada, Snowford O`Donnell traveled to New Mexico and began his under saddle career as an eventer. He won his first event, and successfully continued competing throughout the Southwest, winning Trojan and winning or placing at many others.
Showing & Breeding
In 2004, Team Snowford O`Donnell decided to focus on dressage with the goal of qualifying for the Regional Championships. During the year, the `eventer` won or placed in every show he went to. Comments of "what is that?" soon became, "Oh, the Irish horse is here." He made friends and admirers wherever he went. Not only did he end up qualifying, but placed in each of his 3 classes at the Championships. He received the USDF All Breeds Award for Irish Draught and was awarded a USDF Certificate of Performance as well.
In 2005 Snowford O`Donnell continues his breeding career as he did in 2004; showing, breeding, showing, breeding....
Gold Medal Winning Irish Sport Horses
The Irish Sport Horse, produced by crossing the Irish Draught and a Thoroughbred, has won more Olympic gold medals than any other breed. This combination produces a horse with stamina, jumping ability, solid bone and a peaceful disposition.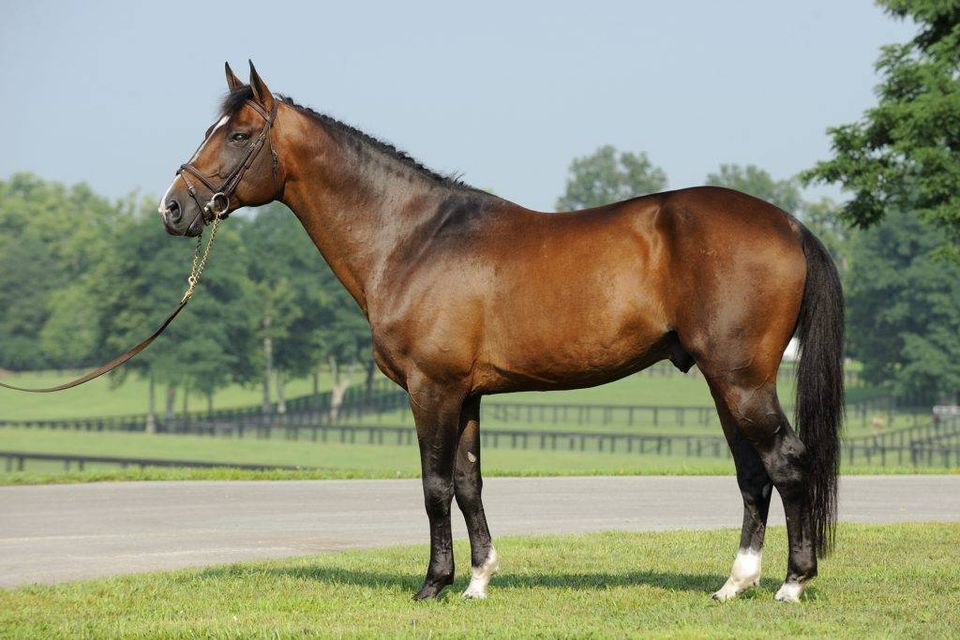 Irish Sport Horse - Eddie Macken & Boomerang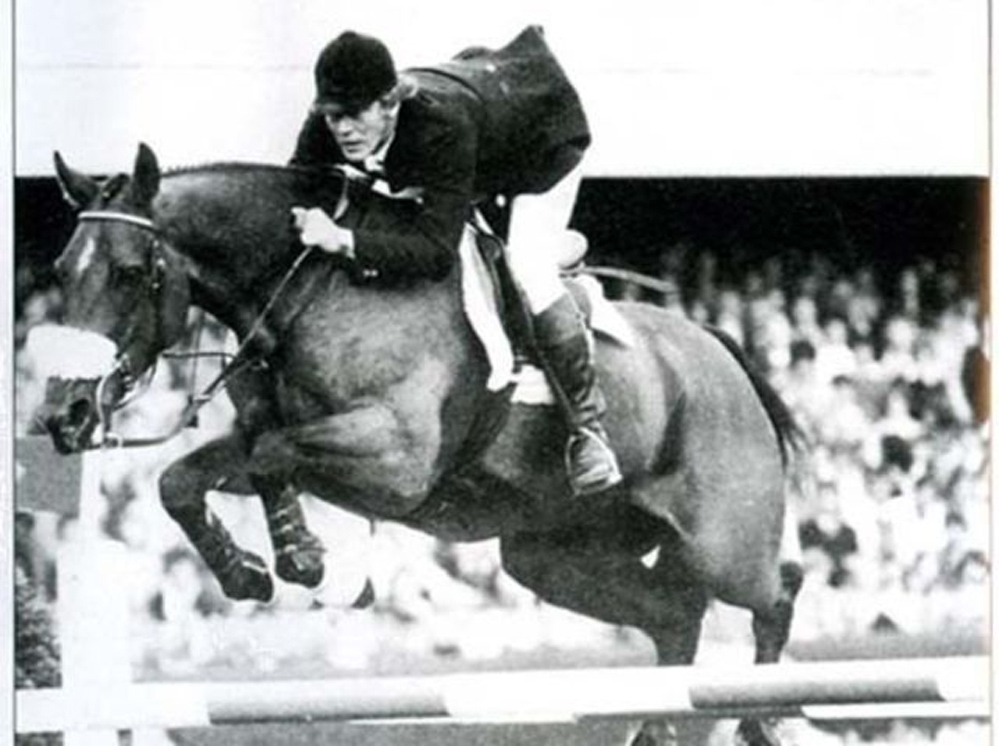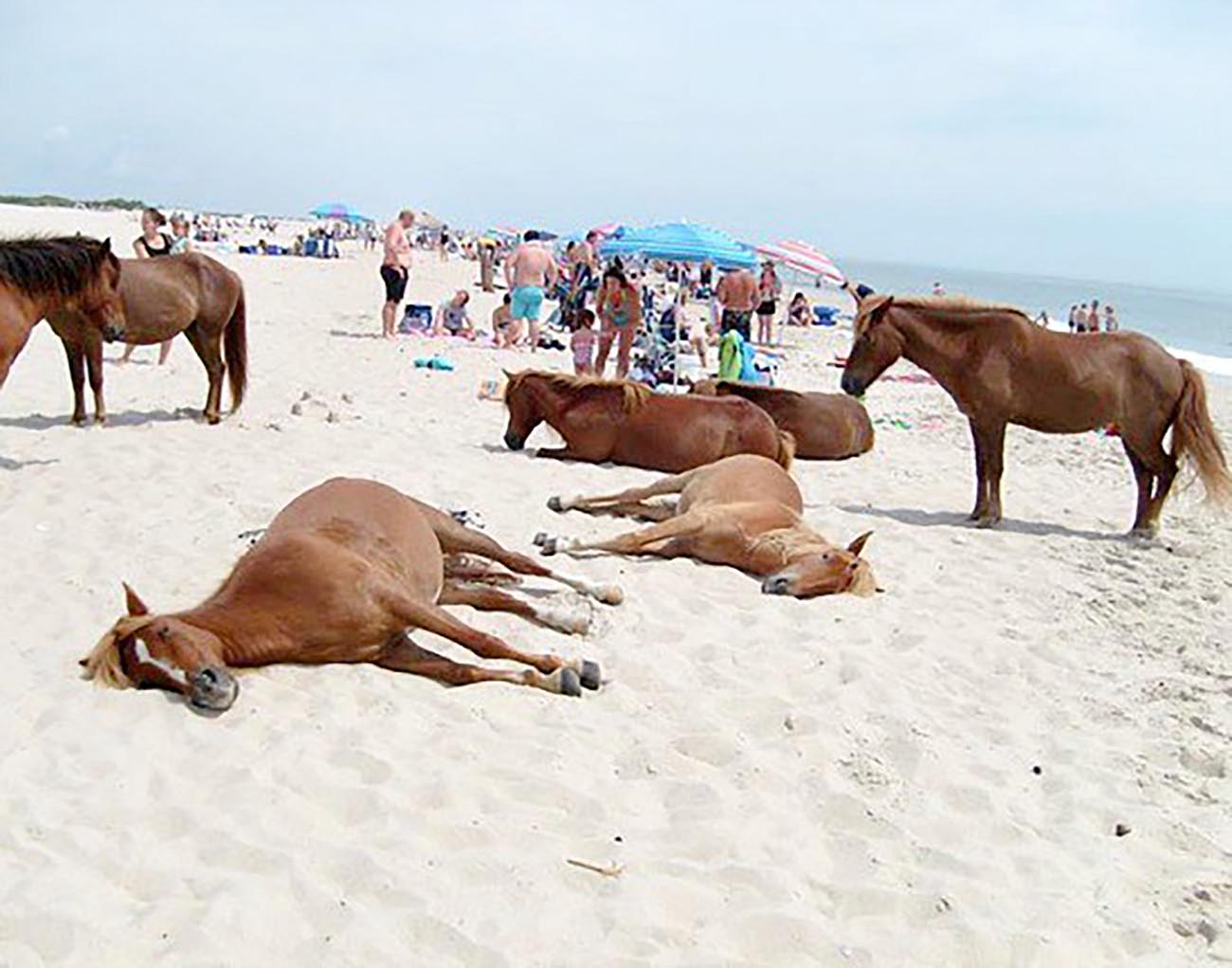 Have you ever visited the Wild horse beach on Assateague Island in Maryland and Virginia? Assateague Island, where wild ponies travel the beaches of this 37-mile uninhabited island, near Chincoteague, split between Virginia and Maryland. …
Read More