Horsebox Seller
Stable Express offer a wide selection of horseboxes for sale from horsebox builders, horsebox dealerships as well as private horsebox sales, below you can browse through a selection of horseboxes for sale.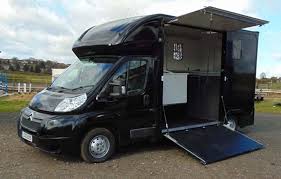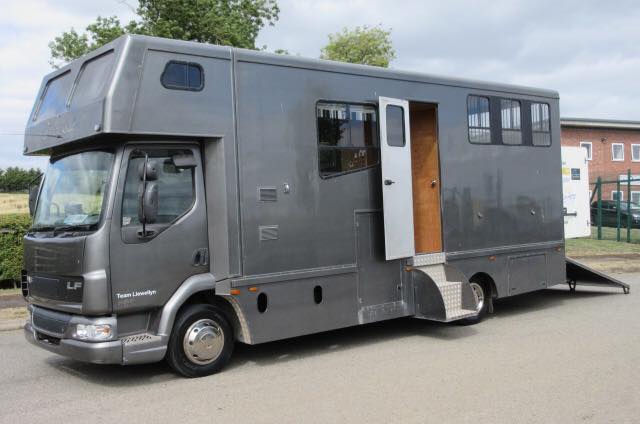 HORSEBOX FOR SALE! - Very Reliable - Leyland DAF 45, 135,000 miles
This Horsebox comes with 6 months MOT and 6 months Tax

LIVING AREA consists of: - cut through from Cab - Large Sleeping Luton - Bench Seating - Under Seat Storage - Cupboard Storage - A full Hanging Wardrobe - Sink - Hob and Grill ( ready to connect to Gas Bottle) - Lighting

Horse Area is extra spacious (Height 8ft x Width 8ft) - Stalled for 3 Large horses/ 4 ponies. Perfect Hunt Box or Pony and Trap - Rear Loading Ramp - Moulded Rubber Matting

Same Owner for last 8 years and has been well maintained. S reg 1998 Any Inspections Welcome - Motivated Seller - priced for quick sale - Based near York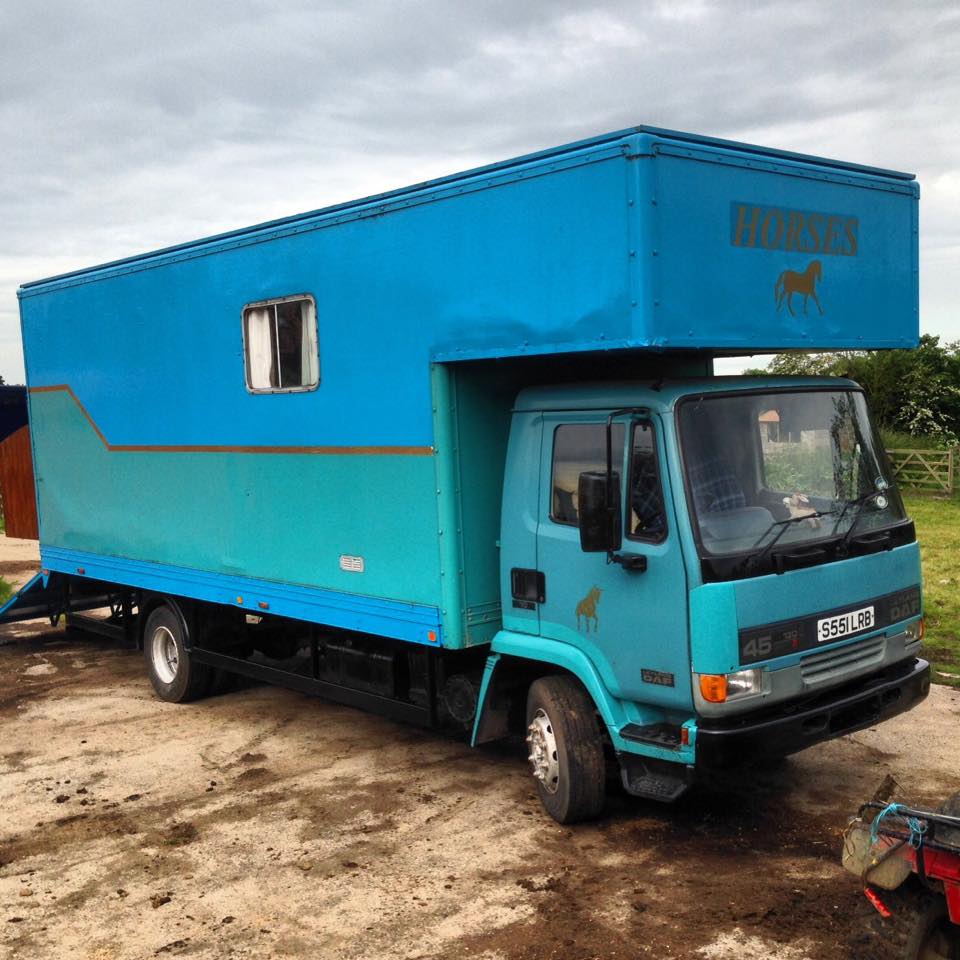 One of our customers is upgrading to a 7.5/t lorry Horsebox, so has this 3.5/t one for sale. Pm us if your interested and we can give details and put you in touch with the seller.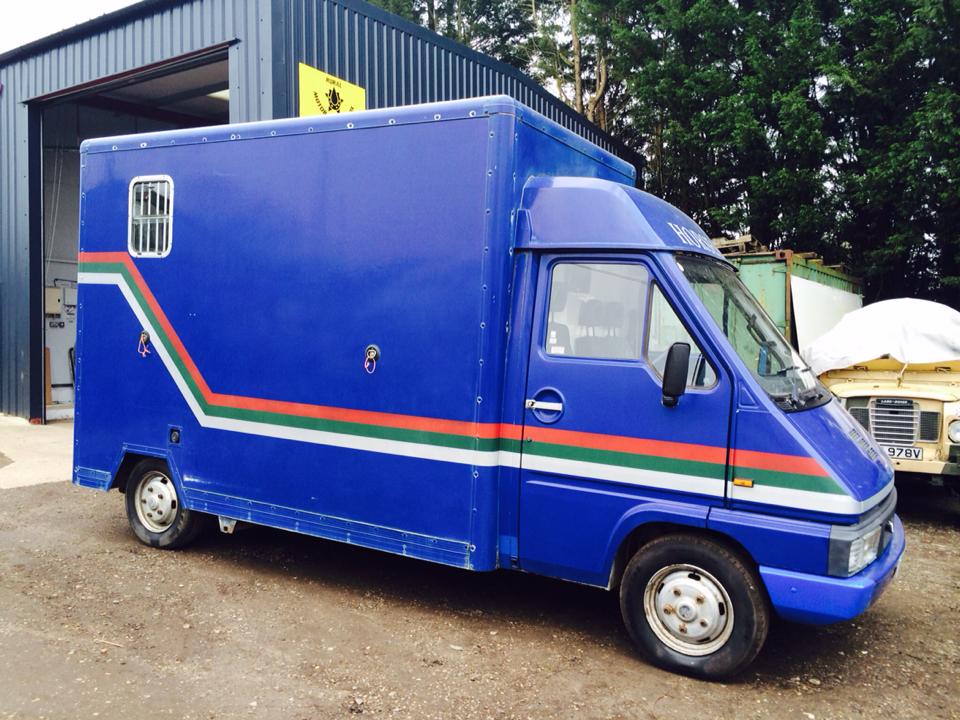 For Sale - 3.5 ton VW LT with MOT photos. Viewings now!!!! Price: £2,500 no offers. I recently purchased this horsebox, however my horse does not fit in it !! He is a friesian and so has very high head carriage. This box will take a 16hh easy as it has 7 foot head room in the loading area, but my lad needs something about 8 foot height! In fact it prob could take a 16.2 if your horse doesn`t hold it`s head in the clouds.

The box is 3.5 tonne and can be driven on a car license, the floor is solid, with a back ramp and a side ramp for easy loading / unloading. Both ramps are spring loaded so very easy to lift. It has the driver seat and passenger seat for two.

The box is currently set up for 3 ponies, as this is how is was when I bought it. I was going to change it to 2 stalls forward facing, but no point as my lad won`t fit in anyway!

There is also a small living area and storage area in the luton, with a cut through to the cab. I was going to change the box to one space forward facing and keep some of the living area and have the other stall space as a tack room etc and have it fully set up for one. You can also do this, or keep it stalled for 3 ponies or change it to two forward facing. Upto you I guess!

The box is mot`d until Nov this year however it has no tax. V5 is present so you can tax it. It`s a great box with a strong engine, good floor, good body with no rust. I bought it because its in fantastic shape and condition. The only negative is the front right indicator is out. I don`t know if it`s the bulb or the wiring, but it`s nothing either way, easily sorted. Externally we was going to give it a paint job just to refresh it. Internally it`s brill, again could prob do with a luck of paint but it`s cosmetic! I like things to look

Photos to follow. I`m open to any inspection/vetting as I have nothing to hide. I`m a genuine seller with a box to small for my horse, that`s it

***please note this is not a 2014 spanking Oakley, it`s an older box in near perfect condition. The only thing is the indicator as mentioned. I`m a little gutted my boy doesn`t fit in.

No offers on the price please. No offence but I need to find another box ASAP and I`m asking a little less than what I paid so I can hopefully attract more interest as I need to buy another box.

You cannot get a 3.5 tonne in this condition with an MOT for less than 3 grand, probably more. Look at all the ones on preloved and they are around the 3-4 grand mark. Plus there isn`t usually that many in this area, so grab a bargain while you can.

Any questions please ask *******now taking viewings. This box won`t hang around so be quick and get a bargain. Quick sale needed as I have paid a deposit on a larger trailer and need this sale to pay the balance. Will go on ebay buy it now for 3000 if not sold quickly.

LOOKING FOR: 7.5T NON HGV COACHBUILT HORSEBOX with the following:
- Must have an unladen payload of at least 2T as we have an 800 kilo heavy horse, and a 3 year old to make roughly 400 kilos. 2 partitions also preferred. -For the same reason, the lorry would need an aluminium floor, and good ramp. - Day living required (as minimum), with cut-through cab. - Tack storage . - Power steering essential. - Seller must be willing to let our mechanic have a look. - Tax/MOT preferred but not essential - honest service history more important. Based in Wiltshire, but willing to travel for the right lorry. Budget flexible based on criteria met and age of lorry. If you think you have/or know a lorry that might be suitable, please don`t hesitate to PM me.
ContentAdvert