Gypsy Horse For Sale - Image Setter Gypsy Cob and Horse Ranch
| | | |
| --- | --- | --- |
| | | Gypsy Horse For Sale - Image Setter Gypsy Cob and Horse Ranch |
Image Setter Gypsy Cob and Horse Ranch In the heart of the Cutting Horse Capital of the World, Weatherford, Texas, we are a small family-owned ranch. Although we own several different breeds of horses it is our draft and draft-crosses that we have come to appreciate and enjoy. We have a variety of draft and draft-crosses. Our horses are a very important part of our family`s life. Whether working with them or just watching them, they are admired and loved for the joy that they bring to our family.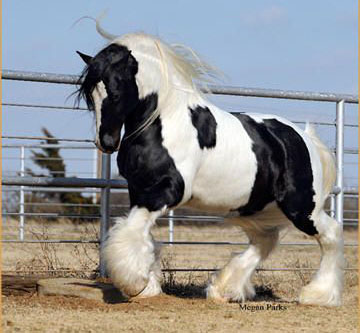 It was through our love and enjoyment of our draft and draft-crosses that attracted us to the Gypsy Horse. Many aspects of the breed combine to make them family friendly and very functional. Their compact and strong build, intelligence, exquisite coloring and their steadfast, gentle nature create a horse with unique versatility. Power, stamina, beauty, kind temperament the Gypsy horse complements many equine disciplines. Children and adults, beginners and seasoned riders all can appreciate this versatile and lovely breed. Our desire is to make these wonderful horses available to be appreciated, enjoyed and cherished. Image Setter Ranch provides only a few well bred foals a year. Through careful, deliberate and selective breeding over generations and one hundred years the gypsies were able were able to produce this extraordinary breed of horse. It is our strong desire out of our respect for the breed and its history to be as particular in our breeding selections in order to maintain the integrity and quality of the gypsy horse. We are so excited and proud to be able to apart of this remarkable horse. Their beauty, build and kind temperament set them apart. Once seen, they are always remembered.

Image Setter Ranch, 2110 Fort Worth Hwy. Weatherford, Texas 76086 Phone 817-597-4834

Gypsy Cob Horses For Sale - Stable Express Equestrian Classifieds
Gypsy Cobs In The USA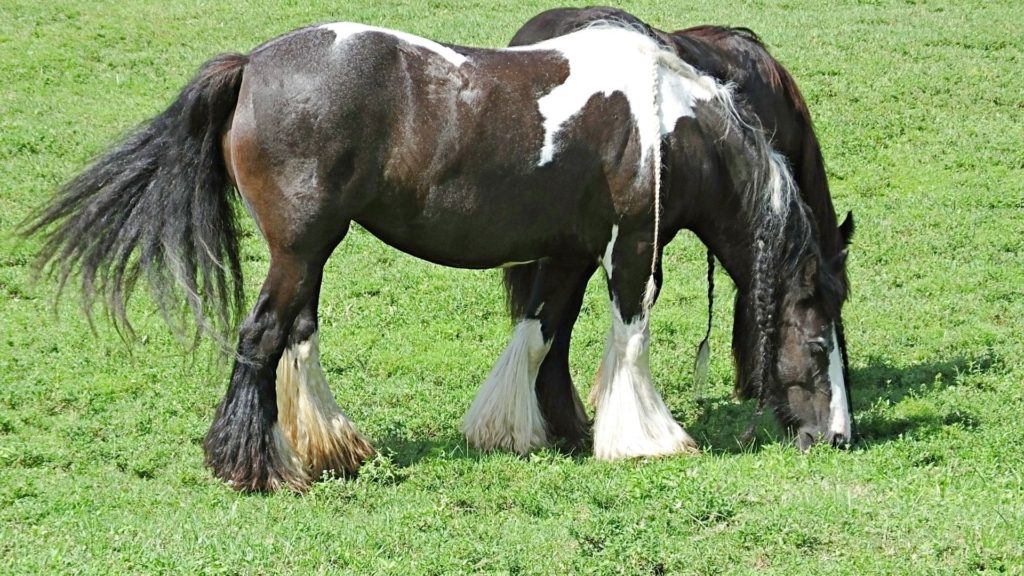 The Gypsy Horse. Relatively new to the U.S., the combination of Clydesdale, Shire, and Irish Drafts and the Dales, Fell ponies bred over one hundred of years to create this remarkable horse used to pull gypsy caravans.

The Gypsy Horse might be prized for its looks alone. Compact and powerful, thick neck and rounded withers attest to its strength. Standing from pony size to 16 hands, the Gypsy Horse comes in a variety of colors however it is the pinto pattern in both skewbald and piebald that distinguishes the breed. But its most recognizable feature is also its most beautiful. Abundant feather, heavy mane, and lush tail that brushes the ground tell all who see it that the Gypsy is a prince among horses.

Beauty is not the only trait that sets this breed apart. Bred to be a working member of the Gypsy clans, their quiet intelligence allows them to remain docile around children, yet they possess the strength and endurance to thrive in a life on the road. Their willingness to work derives from their desire to please. While compact, the Gypsy Horse`s balanced and proportional body allows freedom of movement and a sturdy elegance. Flash, feather, heavy bone and calm temperament the Gypsy Cob is a magnificent horse!

It`s difficult to rein in our exuberance over this uniquely wonderful horse. Image Setter Ranch is proud to offer these incredibly versatile Gypsy Horses to enthusiasts to enjoy in either work or play. Ride through rivers, work cattle, or make a bold statement in the show ring. Once introduced to this magnificent animal, you`ll share our unbridled obsession.

Jimbo - Gypsy Cob Stallion
Jimbo is an amazing stallion and a wonderful example of a "Proper Cob" type. Jimbo was sired by Jim/Sid`s Good Stallion (who passed away 2004). His Grandsire was The Docked Tail Horse and his granddam the Daughter of the Lob. Many of the horses that are so sought after and valued today were produced by Jim Sid`s Stallion. His bloodline is outstanding and very scarce in the USA. Jimbo is 14.2 hands high with a solid stout compact body with wonderful bone. He is all muscle! He is a gentlemen with the mares and very nice to work with. He has a great temperament and disposition. Jimbo has it all and we are so proud to have Jimbo!
Jimbo did an outstanding job in producing his first line of colts and fillies in North America. True to his calling all 7 of his offspring`s are magnificent. We could not be more thrilled. Each foal carries their sires gorgeous head and confirmation. Jimbo honoured his sire, Jim`s Good Stallion, and the Rose line well. The legacy, tradition and beauty of his bloodline goes on. What a distinct pleasure and honour to be apart of the history of the gypsy breed.
Jimbo loves his new job. He is training for Ranch Versatility competition.
Bayonetta - Gypsy Cob Mare
- Tri-colored 2003 pinto mare sired by Nobby. Sired by Nobby her pedigree includes royalty. Her grand-sire is the Lottery Horse and her grand-dam is Bluebell. Lottery was sired by Sam, Son of The Old Black Horse, Son of the Coal Horse. Bluebell was sired by The Old Black Horse and her mare was The Old White Mare. Bayonetta`s mare was one of Micheal Vine`s good mares. She has inherited her father`s sweet personality, his remarkable confirmation and lovely kind eyes. She has the most comfortable and consistent trot and canter. She loves to have fun and is always the first in the herd to do anything. Bayonetta`s will not be in foal for 2008.Bayonetta is busy barrel racing having fun at barrel races and play days with her best friend Laura.
2003 daughter of Diamond Cutter whose bloodline is difficult to find in the USA.
- Emerald has given birth a beautiful filly named Opal by our stallion JIMBO. Jimbo`s bloodline is very rare in the US. His sire produced very few colts. This foal will have has it`s grandsire the late "Jim`s/Sid`s Good Stallion". It`s great grandsire being the Docked Tail Horse and it`s great granddam Daughter of the Lob.
Jojo is a gorgeous six year old mare
- She is well broke to drive, and has been ridden as well. She has a nice big cobby body with good bone and great feather. She stands just shy of 15 hands at 14.3. When driven through the town she was not the least bit concerned about traffic or other distractions (be sure to play the video clip). She is a sweet, easy going mare as well, and is always happy to see you. She is sired by the well known stallion, The Checkerdy Horse, and her dam is known as The Dublin Mare.
Gyspy Cob - Lydia
- 2002 blue and white well bred Conner`s mare.Lydia is a bigger built mare with one indigo blue eye. Her mane and feather is fantastic both thick and wavy with a tail that could double as a wedding veil.
`Lydia has given birth to an awesome and striking colt sired by LK`s Legacy. LK`s Legacy (Luka). Luka`s sire was the legendary and now deceased Lion King. Luka`s amazing pedigree consists of the PO mare as his grandmother and Son of RW`s Old Horse as his grandsire.
Lydia was sired by Jim`s Good Stallion and she is half sister to our stallion, Jimbo. Her dam is Conner who is sired by the famous gypsy stallion called "Harry Conner" Lydia is a very well bred mare and her offspring not only reflect the quality of her pedigree but represent the bloodline as one of the best in N. America.
Sapphires - Red & White Gypsy Cob
- Gorgeous red and white 2004 homozygous pinto. She is a very well-bred mare. Sired by Nobby, and she is half sister to our Bayonetta. She like her sister, has inherited her sires remarkable conformation, lovely kind eyes and sweet personality. Her mane and feather are not only thick but silky as well. It can`t seem to hold a tangle.
Sapphires filly brings with it a wonderful and exciting pedigree! Bringing Jimbo`s rare bloodline and Nobby`s bloodline together. Jimbo (Jim/Sid`s Good Stallion) whose G`randsire was the Docked Tail Horse and G`mare being Daughter of the Lob. Nobby as G`sire and Lottery as great g`sire with Sam son of the Old Black Horse and Son of The Coal Horse as well as the lines from the Old black Horse and The Old White Mare. WOW!!!!
Fancy - Gyspy Cob Mare
- Homozygous black and white 2004 mare. Rom Baro had 2 fillies and 2 colts. She is a filly who wants to please people and has never resisted anything asked of her. She is in foal to LK`s Legacy for 2008. We are so honored to have his only homozygous filly to carry on his line
Fancy`s is a very special mare having the now deceased Rom Baro as her sire. Rom Baro had only 4 offspring. Fancy was his only homozygous filly. Her dam is Bonnie Lass and her grandsire was Jim`s Good stallion. Her pedigree is now very hard to find with both her sire and grandsire being deceased.
Fancy is in foal to LK`s Legacy (Luka). Luka is a son of the Lion King! Having the PO mare as his grandmother and his grandfather Son of RW`s Old Horse makes the baby very special. Rom Baro, Jim`s Good Stallion, PO and Lion King blood all in one very special foal! Fancy is very special and the most gentle and loving horse. She is always the first to come up to you and requires no halter. She will go with you anywhere and everywhere. She is indeed a very special gypsy horse.
Gypsy Cob - Lara
- 2003 black and white mare with heavy bone and thick feather. Lara is a very gentle and quiet mare. Lara gave us an amazing blagadon colt, Johnny Ringo in 2007 sired by the Son Of The Lob. Lara has given birth tO a precious athletic colt sired by Jimbo
Golden Pom Pom
- Pom Pom is heterozygous for the the cream gene. Pom Pom has silky mane, tail and feather. She produced a wonderful chocolate colored (silver dapple) filly named Mocha last year. Pom Pom will produce offspring that are either palomino, buckskin or smokey black.
Trumpet
is a 1999 mare in foal. She stands a bit over 15hh. Trumpet is trained up to 2nd level dressage and was a schooling horse in England. What a well mannered girl. Trumpet is in foal to Blue owned by West Moreland Farms. His sire is The Rocking Horse (a Conners bred stallion) and his dam is Splish Splash a daughter of SD Farms Chief and the Blagdon Splash Mare.
Dixie
is a nicely marked, 2-year old filly from SD farms. She is sired by SD farms "Jack", and her dam is known as "The Dixie Mare Filly". Dixie is a big girl, and we expect her to make around 15 hands when mature. She is a bright and alert filly with great presence to her. Dixie was bred while overseas, and is in foal to SD "Murphy" and has given birth to a unique and striking colt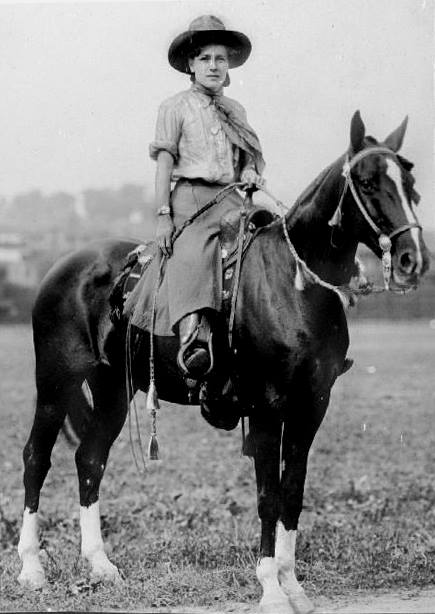 She did it on a bet from Buffalo Bill, whose Wild West show she performed in. She rode her thoroughbred mare, Lady Ellen…
Read More