Dorothee Schneider
Dorothee Schneider is a leading world dressage rider who has represented her country of Germany on many occasions including the 2012 London Olympics and the 2016 Rio Olympics. Dorothee Schneider comes from a keen equestrian family her farther Hans Eberhard Schneider competed to advanced level in dressage as well as being a dressage judge up to grand prix level.
At the 2012 London Olympics Dorothee was a member of the German dressage team that won silver, four years later at the Rio Olympics the German team which she was again a member off would win team gold.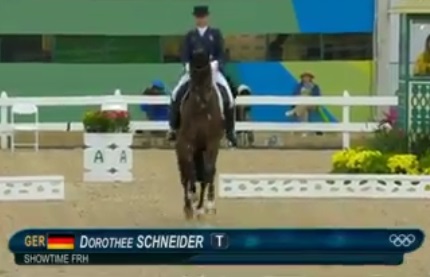 Fohlenhofs Rock` N Rose
International dressage horse competed by German rider Dorothee Schneider, Sired by Batida out of a mare by Feiner Stern. Born in 2004 Fohlenhofs Rock` N Rose is registered with the Hannoverain studbook.
on the 26th September 2016 Dorothee Schneider and Fohlenhofs Rock` N Rose won the Darmstadt-Kranichstein grand prix, the partnership of Dorothee Schneider and Fohlenhofs Rock` N Rose have also had good placings at Munchen, Mannheim and Fritzens-Schindlhof .
First Romance