Celebrity Horse Owners
While plenty of us mere mortals own horses and it`s seen as a pretty average thing to be able to do nowadays, it`s also a very elite thing as well. As with anything, there are things we don`t know about celebrities, but which celebrities who are horse owners is not something that is commonly discussed. Some of these answers may shock you!
Nicole Kidman
American actress Nicole Kidman is a famous horse owner and rider, she has ridden many times in mavies and is well known for doing her own riding stunts in her films such as Australia and in Far And Away.
Brad Pitt
Unlike Nicole Kidman, Brad Pitt doesn`t ride seriously, but he bought a horse and six ponies for his family in 2011. If you have the money, why not I guess.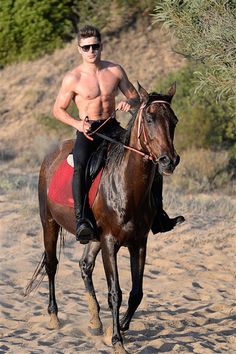 Madonna
Did you know that Madonna owns two horses? In 2005 she was in a serious horse accident were she broke several bones including her ribs, hand and collorbone, but she has made a full recovery and not lost her love of riding!
Julia Roberts
Even Julia Roberts owns horses at her ranch out in New Mexico, which is pretty cool! Who would have thought our Pretty Woman actress was into horses.
Johnny Depp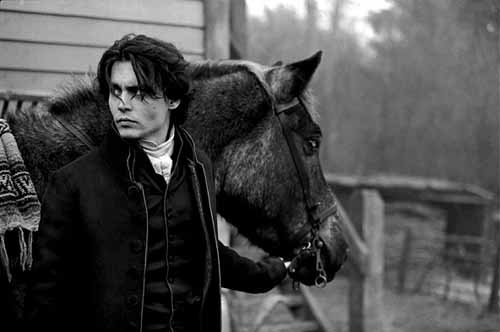 Johnny Depp has a horse, but he has a fascinating story. He starred in the movie Sleepy Hollow in 1999 and at the end of filming he adopted the horse for himself. How sweet that they developed a bond.
Elizabeth Taylor
Elizabeth Taylor is known for many things, but owning horses is not one of her most popular bits of trivia. She loved horses, which wasn`t necessarily a secret, and she ended up adopting the horse she wrote in the renowned film National Velvet, much like Johnny Depp did with his co-star horse in Sleepy Hollow.
Paul McCartney
It`s not just actors and actresses who have horses. Singer Paul McCartney owns several horses in a ranch of his in the state of Arizona. He didn`t always love horses, but his wife introduced them to him and he fell in love almost at first sight. Not hard to see why.
Shania Twain
It`s no surprise to hear that a country singer who sings about horses and open fields and farms loves horses. She has actually been known to travel with her horses on concert tours. Bet you didn`t know that when you attended one of her concerts.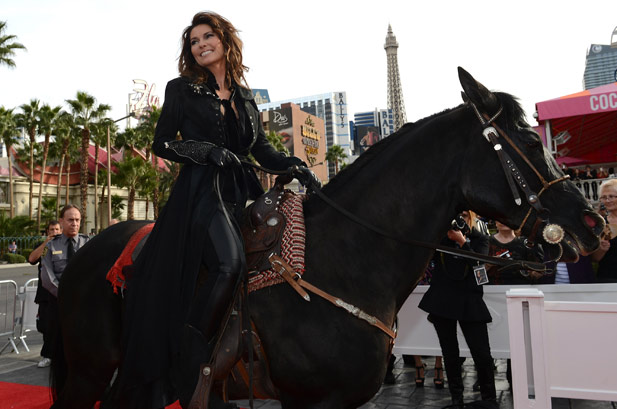 Oprah Winfrey
Oprah is known for a lot of things, but the fact she has a farm in Hawaii is not particularly well known, nor is the fact that she owns several horses who live out there. Then again, if she can afford to buy everyone in her audience a car, it`s no surprise she can own a few horses.
These famous celebrities aren`t known for their horsemanship, but it`s always fun to learn that we have something in common with them, especially something that`s so personal with strong bonds like owning horses.

Hollywood great Elizabeth Taylor, star of horse film national Velvet
Read More
Steven Spielberg

Movie director Steven Spielberg brought us the emotional story War Horse, he has also owned several race horses including Atswhatimtalkingabout he ran in the 2003 Kentucky Derby.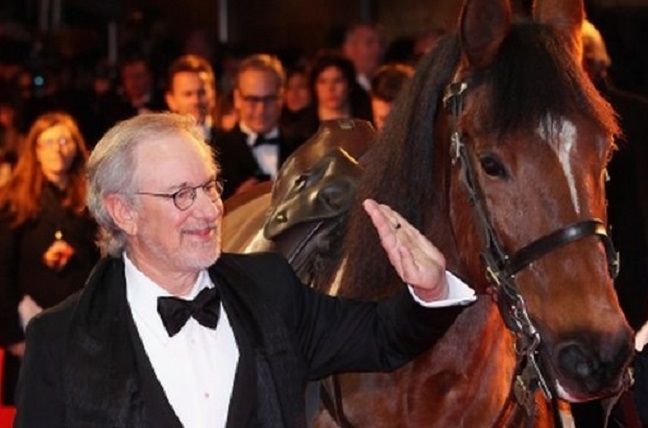 Famous Horse Riders

Many celebrities enjoy riding, some have ridden since a young age while others may have found their new passion after possibly learning to ride for a movie role. Have a look through our list of some famous horse riders from around the world.
Richard Hammond
No stranger to horsepower, the former top gear presenter first learnt to ride after taking riding lessons in preparations for a top gear episode. His wife was already a horse enthusiast and together they have had many horses at their home in Herefordshire
Leona Lewis
Former winner of X-Factor has ridden since she was six, going on riding vacations in wales. Since becoming an international singing sensation she has got more involved in riding taking part in dressage competitions with her Friesian gelding Ritske Fan Una State. Leona Lewis is also the envoy of nearly every dressage lover in the world having had a ride on the two time Olympic dressage gold medalist Valegro. Leona Lewis is also a vocal opponent of racing and regularly tweets against the sport with a particular dislike for the grand national.
Jamie Foxx
An actor who not only appeared in the film Django Unchained but also made his own horse a film star riding Cheetah, galloping him bareback brandishing a gun in one of the films scenes.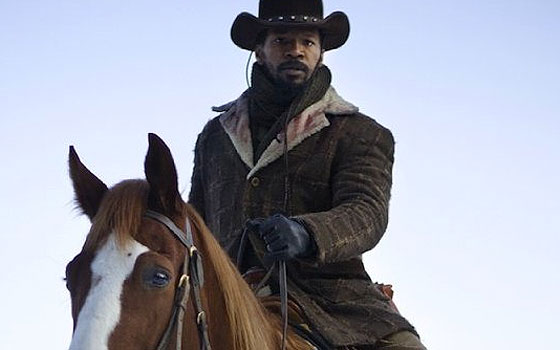 Gillian Anderson

Star of X-Files Gillian Anderson is the owner of several horse owners at her Arizona ranch.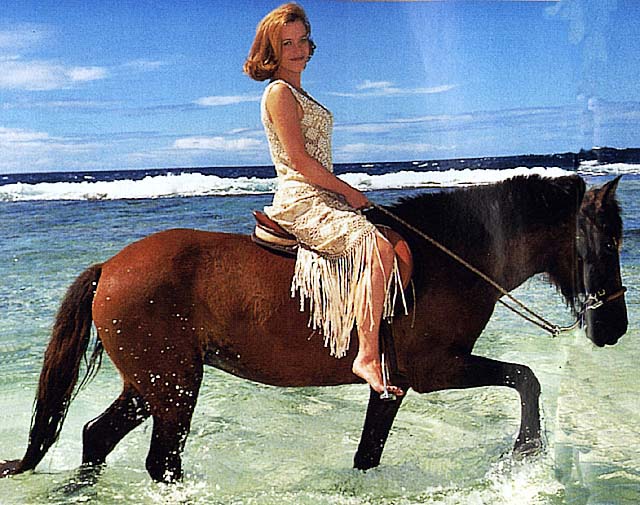 Richard Gere

Richard Gere has had many roles in which employed his talents in the saddle such as the role of Lancelot in the film First Knight. But it is not just on the big screen Richard Gere enjoys riding he himself owns four horse and has a passion for Appaloosa horses.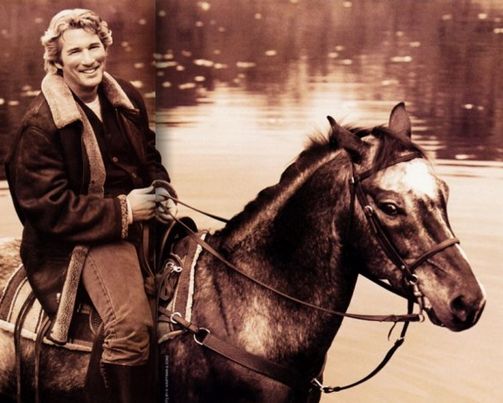 Elizabeth Taylor

Hollywood great Elizabeth Taylor is a famous horse lover, after staring in the film National Velvet she adopted the horse at the end of filming.
Lucy Liu

Elementary star Lucy Liu loves the outdoor life, a keen rider she lists riding as one of favourite past times. For her role in Charlie`s Angels Lucy Liu worked to improve her riding taking lessons to prepare for the movie.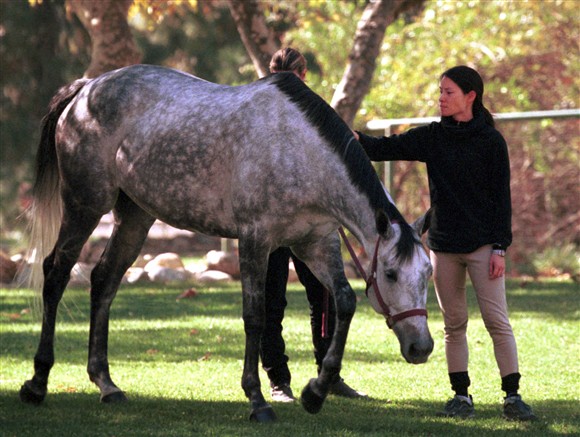 Julia Roberts

American movie star who is famous for roles in Pretty Women, Erin Brockovich and Runaway Bride. Julie Roberts owns a number of horses at her ranch in New Mexico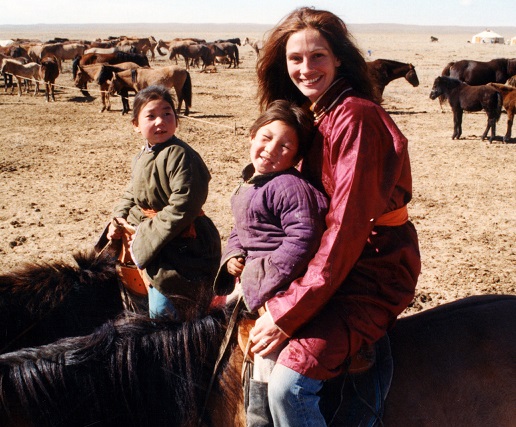 Paul McCartney

The former Beatle, Paul McCartney came to horses late after meeting and marrying Linda Paul McCartney, he became a keen rider and owns numerous at his ranch in Arizona.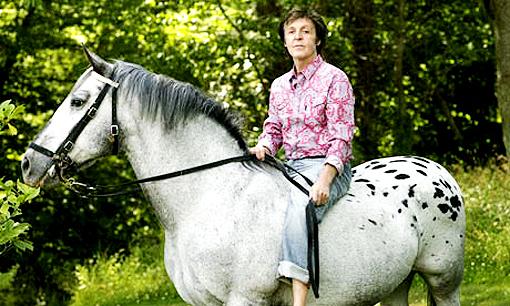 Kaley Cuoco and Tracey Wade Jumping as Luke Skywalker and Darth (Wader) Vader

Watch Kaley Cuoco and Tracey Wade in action jumping in star wars fancy dress in a showjumping event